CANCELLIERI Giulia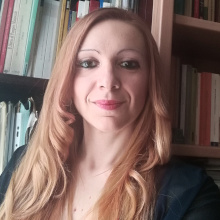 OFFICE HOURS JANUARY 2021
Published on 11/01/2021
My Office hours will be held online through Google Meet.
Next office hours will take place on:
January 15 at 5.30pm
January 22 at 5.30pm
January 29 at 5.30pm
You can enroll by writing me an email the day before the meeting and leaving your email address. I will contact you via email to join the meeting following the order of the registrations.
Appello Gennaio Gestione delle Imprese e Marketing
Published on 02/01/2021
Si avvisano gli studenti che la parte di marketing dell'insegnamento di GESTIONE DELLE IMPRESE E MARKETING [ET0036], Pat-Z si terrà in forma orale su GMeet il 19 gennaio al seguente link: https://meet.google.com/hky-ordv-jfg
Gli studenti sosterranno la parte di marketing dopo avere sostenuto la parte del Prof. Giachetti che avrà inizio alle ore 9.00 ( si veda la sua pagina avvisi).

follow the feed