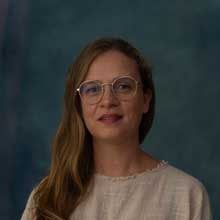 CULEDDU Sara
Position

Associate Professor
E-mail
Scientific sector (SSD)

LINGUE E LETTERATURE NORDICHE [L-LIN/15]
Website

www.unive.it/persone/sara.culeddu (personal record)

Office
Office hours
Friday 10:00-12:00
Palazzo Cosulich Aula Ex Audio 1

Notices
LETTERATURE SCANDINAVE 2 MOD. 1 - [LT40AC-1] (206416): Spostamento Corso al Secondo Semestre
Published on 12/09/2022
Car* tutt*
Mi spiace informarvi che a casa di un problema di salute della docente il corso di Letterature Scandinave 1/Letterature Scandinave 2 mod. 1 sarà rimandato al secondo semestre.
Sperando che questo spostamento non vi provochi grossi disagi organizzativi, mi scuso con tutt* voi per l'inconveniente e vi invito a contattarmi via mail per qualsiasi domanda o per fissare un ricevimento, online o in presenza.
Un caro saluto e un augurio di buon inizio di semestre a tutt*
Sara Culeddu
Course Cancellation
Published on 12/09/2022
Dear students,
I am very sorry to inform you that due to an unpredictable health situation the course "Human, The Natural Environment and The Animal Other in Scandinavian Literature" is cancelled for the academic year 2022-2023.
I really hope that many of you can postpone their enrollment in the course to next academic year.
I apologize for the inconvenience.
All the best,
Sara Culeddu
follow the feed