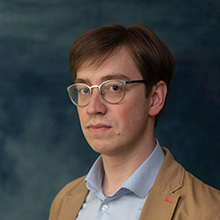 Pavel DURYAGIN
Position

Researcher
Telephone

041 234 9491
E-mail
Scientific sector (SSD)

SLAVISTICA [L-LIN/21]
Website

www.unive.it/persone/pavel.duryagin (personal record)

Office
Office hours
Office hours in 2022/23: Tuesday 13.00 – 15.00, Ca' Bernardo.
The students are asked to always contact me in advance in order to schedule a meeting.

Notices
RICEVIMENTO STAGE: istruzioni
Published on 30/05/2023
IMPORTANTE: I progetti formativi devono essere sottoposti al docente/referente almeno 10 giorni prima dell'inizio previsto per lo stage. Gli studenti non possono iniziare uno stage senza avere il progetto firmato dalla docente.
ANCORA PIU' IMPORTANTE: si avvisano gli studenti che tutto il materiale inviato in settimana verrà esaminato e trattato unicamente nella mattinata di mercoledì: si raccomanda perciò di non inoltrare lo stesso messaggio più volte, di calcolare bene i tempi della richiesta e attendere la risposta del docente. Li si raccomanda altresì di includere il loro nome nel titolo di tutti gli allegati inviati e di non aggiungere mai la formula "urgente" nell'oggetto delle e-mail.
In ottemperanza alle nuove disposizioni di Dipartimento, si avvertono gli studenti del curriculum politico-internazionale che anche per l'a.a. 2022/23 il ricevimento stage si svolgerà unicamente a distanza, tramite mail, ma seguendo l'ordine per lettera iniziale di cognome:
Studenti con cognome A-E: prof. Pavel DURYAGIN (pavel.duryagin@unive.it)
Studenti con cognome F-O: prof. Gerardo TOCCHINI (tocchini@unive.it)
Studenti con cognome P-Z: prof.ssa Stéphanie NOVAK (stephanie.novak@unive.it)
Tutte le informazioni relative all'attività di Stage/tirocinio si trovano in questa pagina: http://www.unive.it/pag/10356/. Ulteriori chiarimenti sul riconoscimento di attività sostitutive allo stage si trovano in fondo alla stessa pagina (link: https://www.unive.it/pag/31387/)
N.B.: Nel procedimento di tirocinio/stage, Il docente/referente ha come unico compito quello di avallare con la propria firma, in apertura e in chiusura, la congruenza del tirocinio attivato rispetto al percorso formativo del Corso di Laurea triennale. Si fa presente allora, che le attività di stage/tirocinio previste nell'offerta dell'Ateneo sono già calibrate, e perciò in linea di massima congruenti, con i curricula di studi dell'Ateneo stesso.
Per tutte le altre informazioni inerenti modalità di attivazione e relativa prassi, offerta Italia ed Estero, tempistiche, scadenze e tempi amministrativi etc., lo studente tirocinante dovrà fare capo agli uffici amministrativi di Ca' Foscari, ai seguenti indirizzi:
https://www.unive.it/data/strutture/111757;
https://www.unive.it/data/strutture/111758
Qualora lo studente intendesse chiedere comunque un parere al docente/referente relativamente alla congruenza di un particolare progetto formativo con il proprio curriculum di studi (nel nostro caso, LCSL - curriculum politico-internazionale), lo dovranno fare per mail – li si prega, in tal caso, di essere sintetici nelle loro richieste e di dichiarare nel messaggio il tipo di mansioni che dovranno svolgere, e se è vi previsto l'impiego delle lingue apprese o perfezionate in Ateneo.
TIROCINIO/STAGE CURRICULARE
(svolto tramite convenzione stipulata da Ca' Foscari)
Gli studenti che intendano ottenere la firma per iniziare l'attività di tirocinio stage, dovranno inviare al docente per mail una scannerizzazione IN FORMATO PDF del loro progetto formativo, già debitamente compilato in tutte le parti, che verrà restituito loro firmato, sempre per mail.
Lo stesso procedimento vale per la firma di chiusura per gli stage effettuati e conclusi: gli studenti sono autorizzati ad inviare per mail al docente una scannerizzazione IN FORMATO PDF della copia completa del progetto formativo munita del registro delle attività e della chiusura stage da parte dell'ente ospitante debitamente compilate – la chiusura stage verrà firmata e restituita loro, sempre per mail.
Si invitano perciò gli studenti a provvedersi delle firme per tempo, e in ogni caso prima dell'interruzione estiva del ricevimento studenti e prima della eventuale partenza dello studente per l'Erasmus. Anche in questo caso, gli studenti dovranno regolarsi tenendo d'occhio gli avvisi personali del referente stage.
Importante: Nel compilare il progetto formativo, particolare attenzione dovrà essere riservata al campo "Obiettivi e modalità del tirocinio", che dovrà fare riferimento anche agli obiettivi formativi dichiarati dal corso di studi. Si ribadisce altresì che è assolutamente necessario ottenere le tre firme d'avvio sul progetto formativo prima dell'inizio dell'esperienza di tirocinio stage.
RICONOSCIMENTI DI ATTIVITA' SOSTITUTIVE DI TIROCINIO/STAGE
(attività già svolte o da svolgere gestite in proprio, riconoscibili come stage)
Gli studenti potranno richiedere per mail pareri circa la riconoscibilità come sostitutive di tirocinio di attività lavorative svolte in proprio e al di fuori delle procedure stage istituzionali dell'Ateneo – a maggior ragione in questo caso li si prega di essere sintetici nelle loro richieste e di dichiarare il tipo di lavoro che hanno svolto o che dovranno svolgere, e se vi è previsto l'impiego delle lingue apprese o perfezionate in Ateneo.
Si avverte che per essere riconosciuta come stage da 3cfu l'attività lavorativa deve ammontare ad almeno 75 ore – non si effettuano riconoscimenti parziali.
In caso di risposta positiva, i richiedenti dovranno inviare per mail al docente:
il modulo scaricabile qui, debitamente compilato in tutte le sue parti (a mano, poi scannerizzato IN FORMATO PDF). [FORMULARIO attività sostitutiva.pdf]
una dichiarazione in carta intestata della Ditta/Ente dove hanno svolto l'attività di cui domandano il riconoscimento – Il modello/specimen della dichiarazione (file) è allegato a questo avviso personale: si invita a seguire alla lettera le istruzioni (in rosso nel modello) [MODELLO ATTESTATO attività SOSTITUTIVA DI STAGE.pdf]. NB: non si tratta di un formulario da riempire, ma di una 'traccia' esemplificativa di una dichiarazione che dovrà essere in carta intestata della Ditta/Ente.
NB: in entrambe le certificazioni dovrà essere fatta specifica menzione delle lingue praticate in corso di attività/servizio
In ogni caso si raccomanda agli studenti di controllare sempre gli avvisi personali dei docenti.
follow the feed