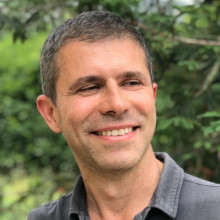 Stefano DALL'AGLIO
Position

Associate Professor
E-mail
Scientific sector (SSD)

STORIA MODERNA [M-STO/02]
Website

www.unive.it/people/stefano.dallaglio (personal record)

Office
Office hours
Office hours are held, upon appointment, every Friday from 3.00 to 5.00 p.m. in the professor's office (Palazzo Malcanton Marcorà, 2nd floor, room 2B07).

Notices
INTRODUCTION TO DIGITAL AND PUBLIC HUMANITIES - [FM0482] VENEZIA (257758): FIELD TRIP TO M9 ON 17 NOVEMBER CANCELLED
Published on 14/11/2023
Unfortunately the field trip to M9 Museum planned for next Friday 17 November has been CANCELLED because on that day there will be a general strike and it will be very hard to reach Mestre, and go back afterwords.

The field trip is then MOVED to Friday 1 December, same time, same appointment.

For those who can, the usual class next Friday 17 at 10.30 at San Trovaso is confirmed.

I'm sorry for the inconvenience this may cause.

follow the feed