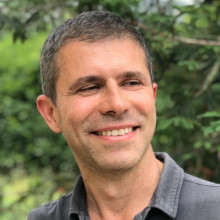 DALL'AGLIO Stefano
Position

Associate Professor
E-mail
Scientific sector (SSD)

STORIA MODERNA [M-STO/02]
Website

www.unive.it/persone/stefano.dallaglio (personal record)

Office
Office hours
In-person office hours will be held every Tuesday from 15.00 to 17.00 p.m. in the teacher's office. Otherwise, the students can meet the teacher online via Zoom. Both types of office hours require an appointment.
According to the recent measures issued by the university and the department, also for in-person office hours "the students have necessarily to fix an appointment via email in the previous days and get a confirmation by the teacher", and "free access to office hours (without an arrangement in advance) is not allowed". In addition, according to D.L. 6 August 2021, n. 111, "only the students who hold a Green Pass for COVID-19 can access in-person office hours".
Please note that, because of the works in progress at Palazzo Malcanton Marcorà, the teacher's usual office is not available. As of January 2022 the office has temporarily moved to Polo S. Giobbe, room 11B until further notice.


follow the feed