MICHELUCCI Fabio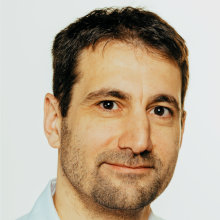 FABIO MICHELUCCI
Department of Economics, Università Ca' Foscari
San Giobbe, Cannaregio 873
30121 Venice, Italy
fabiomichelucci@gmail.com
Skype: fabiomichelucci
Web: www.fabiomichelucci.com
PRESENT APPOINTMENTS
-Associate Professor, Ca' Foscari, since 15/10/ 2019
-Associate Professor with Tenure (US permanent charter), CERGE-EI, on leave
-Fellow of the Agora centre for institutional, market and organizational design - Italian habilitation in Economia Politica for Full Professor
PAST APPOINTMENTS
-Assistant Professor, CERGE, Charles University, Prague, since Sept. 2009 to 14/10/ 2019
- Assistant Professor, CERGE-EI (under US permanent charter), Sept. 2009-Dec. 2015
- Postodoctoral Scholar, Caltech, Jan. 2007-March 2009 (supported by Prof. Goeree's Dutch NSF Grant VICI 453.03.606)
- Assegnista di Ricerca (Researcher) at Bocconi University, 06/2006-12/2006
VISTING POSITIONS
- European University Institute, April to July 2017
- University of Queensland, August to October 2016
- Toulouse School of Economics, October 2015
- Université Paris-Dauphine, March 2013, September 2014 - Nuffield College, Oxford, February 2014
EDUCATION
- University College London, Ph.D. in Economics 2007
- Universitat Pompeu Fabra, M.Sc. in Economics 2001
- Università di Firenze, B.A. in Economics, Summa cum Laude and Honors (110/110 e lode e auspicio di pubblicazione), 2000

RESEARCH INTERESTS
Microeconomic Theory, Industrial Organization, Market Design, Auction Theory, Bounded Rationality, Experimental Economics, Political Economy
TEACHING FIELDS
Microeconomic Theory, Game Theory, Auction Theory, Corporate Finance
HONORS, GRANTS AND AWARDS
- Fernand Braudel Senior Fellow, European University Institute
- ECOCEP Grant (August to October 2016) from the People Programme (Marie Curie Actions) of the European Union's Seventh Framework Programme FP7/2007-2013/ under REA grant agreement number 609642.
- Grant Agency of the Czech Republic. "Electoral Competition with Dynamic Campaign Contribution." with Andrea Mattozzi, 2013-2015
- Grant Agency of the Czech Republic. "Behavioral Auction Design." with Peter Katuščák,2011-2013
- Global Development Network. "Behavioral Market Design", with Miroslav Zajicek,01/2011-06/2012
- Instituto Valenciano de Investigaciones Economica, Award for the paper "Second Best Efficiency in Auction" (joint with Hernando-Veciana)
- Ente Luigi Einaudi Scholarship, 2003-2004
- Bank of Italy scholarship (Bonaldo Stringher), 2001-2003
- Mario Landi Award, Amici di Villa Favard, University of Florence, 2001-2002
PUBLISHED PAPERS:

-"Manipulating Information Revelation with Reserve Prices", with David Ettinger, Annals of Economics and Statistics, 133, (2019), 87–92

-"Inefficient Rushes in Auctions", with Angel Hernando-Veciana, Theoretical Economics,13, (2018), 273–306

- "On the efficiency of the first price auction", with Angel Hernando-Veciana, Economics Letters, 156, (2017), 159–161

-"Hiding Information in Open Auctions with Jump Bids" with David Ettinger, Economic Journal, 126 (2016), 1484-1502
-"Creating a Winner's Curse via Jump Bids", with David Ettinger, Review of Economic Design,20 (2016), 173-186
- "Does Feedback Really Matter in One-Shot First-Price Auctions? ",with Peter Katuscak and Miroslav Zajicek, Journal of Economic Behavior and Organization,119 (2015), 139-152
-"On the Optimality of not Allocating", with Angel Hernando-Veciana, Economics Letters 125 (2014), 233-235
-"Second Best Efficiency and The English Auction" with Angel Hernando Veciana, Games and Economic Behavior 73 (2011), 496–506
WORKING PAPERS:
-"How to Boost Revenues in FPAs? The Magic of Disclosing only Winning bids from Past Auctions", with Philippe Jehiel and Peter Katuscak
- "How to pick a Winner, with Andrea Mattozzi Earlier version titled:"Electoral Competition with Dynamic Campaign Contributions" https://papers.ssrn.com/sol3/papers.cfm?abstract_id=3014554
WORK IN PROGRESS:
-"Signaling in a private and common value environment"
-"Promoting Entry via Reserve Prices"
-"Transparency in Dynamic Contests", with Levent Celik
- "The Old and the New World", with Topi Miettinen
TEACHING EXPERIENCE
CERGE-EI, Prague 2009-till now Courses taught as a Lecturer:
Microeconomics I, Microeconomics III, Prep Microeconomics, Corporate Finance (all Ph.D. level)
University College, London 2002-2006
Courses taught as a Teaching Assistant : Microeconomics, Industrial Economics, Money and Banking (all Undergraduate level)

INVITED TALKS AND CONFERENCES (since 2014)
Invited Talks:
Oxford (Nuffield College), University of Essex, Humboldt University (Berlin), Paris Dauphine, Lyon, Università Cattolica, University of Vienna, University of Bologna, University of Venice, Higher School of Economics, (Moscow), Nova School of Business (Lisbon), Erasmus University (Rotterdam), University of Queensland (Brisbane), UTS(Sydney) , UNSW (Sydney), WZB (Berlin), University of Florence, EIEF (Rome), University of Venice, University of Verona, Tinbergen Institute (University of Amsterdam).
Conference Presentations:
EEA 2014 (Toulouse), ASFEE 2015 (Paris), EARIE 2014 (Milan), ESA 2014 (Prague), EEA 2015 (Mannheim), UECE Game Theory Meeting 2015 (Lisbon), ASSA meeting 2016 (Econometric society), RES 2016, ANZWEE 2016, Alghero Workshop 2017, EARIE 2017, RES 2018, EARIE 2018, ASSET 2018, SAET 2019, EARIE 2019
STUDENT SUPERVISION:
I am currently supervising the following student as the main advisor (all Ph.D. level):
Appleman William, Bychkova Olga, Plazonja Jelena
I am currently in the committee of the following students (all Ph.D. level):
Jibuti Daviti, Matveenko Andrei, Michal Šoltes, Veronika Vrana
Already Graduated:
Miklánek Tomáš (as Local chair), currently Assistant Professor at University of Economics in Prague
Azamat Valei (as committee member)
LANGUAGE SKILLS
Italian: native, English: fluent, Spanish: fluent, French: fluent, Portuguese: advanced, Czech: beginner/intermediate

PROFESSIONAL ACTIVITIES
- Referee for: Econometrica, Theoretical Economics, Review of Economic studies, Journal of the European Economic Association, Journal of Economic Theory, Games and Economic Behavior, The Economic Journal, Economic Theory, Mathematical Social Sciences, International Journal of Game Theory, International Journal of Industrial Organization, Review of Economic Design, Economics Letters, Economics Bulletin, Czech Economic Review, Metroeconomica
- Evaluator for Social Sciences and Humanities Research Council of Canada
- Co-Organizer (with Jacob Goeree) of the 1st ESEI Market Design Workshop (Prague 11-13 October 2012): http://www.esei.ch/conferences/1st-workshop OTHER DUTIES
CERGE-EI:
Hiring Chair, 2018-2019 (participating to the European and American Job Market meetings); Committee of Graduate Studies, 2018-; Deputy Director for Graduate Studies, 2017-2018; Placement Officer, 2010-2016; Admission Committee Member, 2010-2016; Mobility Committee member, 2014-2016; Theory Seminar Organizer, 2010-2014
PERSONAL
Italian citizen, Czech permanent resident, Married, 2 children (2 and 5yo)
Ultima modifica: 04/11/2019
Le informazioni riportate sono state caricate sul sito dell'Università Ca' Foscari Venezia direttamente dall'utente a cui si riferisce la pagina. La correttezza e veridicità delle informazioni pubblicate sono di esclusiva responsabilità del singolo utente.