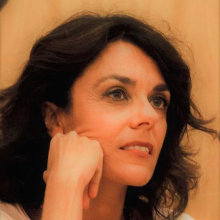 TIMETO Federica Maria Giovanna
Position

Associate Professor
E-mail
Scientific sector (SSD)

SOCIOLOGIA DEI PROCESSI CULTURALI E COMUNICATIVI [SPS/08]
Website

www.unive.it/persone/federica.timeto (personal record)

Office
Office hours
Il ricevimento per il momento è online, previo appuntamento con la docente via email.
Il prossimo ricevimento in presenza sarà Giovedì 16 Dicembre ore 14.00-17.00, previo appuntamento via email e nel rispetto delle norme anti-covid.

Notices
Modalità svolgimento esami
Published on 07/01/2022
Gli esami di Gennaio relativi alle mie discipline si svolgeranno tutti in forma scritta e in presenza.Solo nei casi sottolencati // previo invio di documentazione // è possibile svolgerli online.
I candidati e le candidate che si trovino in una delle condizioni sottoelencate, sono pregati di comunicarlo alla sottoscritta non oltre il 15 Gennaio, in modo da consentire l'eventuale preparazione di prove alternative da svolgere online. Chi non lo facesse entro il 15, è supposto presentarsi in aula o sarà ritenuto assente.
La/il candidata/o potrà richiedere di svolgere la prova a distanza qualora si trovi in una delle situazioni riportate in elenco (previo invio di documentazione attestante la condizione all'indirizzo onlineexams@unive.it). La prova a distanza sarà garantita, per quanto tecnicamente possibile, nella modalità prevista in presenza.
a. Studentesse e studenti sottoposti a provvedimento di quarantena o isolamento (per positività propria SARS-CoV-2 o per "contatto stretto");
b. studentesse e studenti in condizioni di impedimento a raggiungere la sede universitaria in ragione della residenza in zone dalle quali non sono autorizzati spostamenti;
c. relativamente agli studenti internazionali, cioè quegli studenti in possesso di un titolo di studio conseguito all'estero e con cittadinanza estera, sarà garantita la possibilità di svolgere gli esami in remoto a chi si trovasse in situazioni di oggettivo impedimento (per le disposizioni che si applicano agli spostamenti dall'estero si rimanda alla pagina del Ministero della Salute);
d. studentesse e studenti con handicap riconosciuto ai sensi dell'art. 3 c.3 Legge 104/92;
e. studentesse e studenti fragili affetti da patologie gravi o in condizione di immunodepressione certificata che, a causa del rischio di contagio particolarmente elevato (che prescinde dall'attuale pandemia di SARS-CoV-2), non possono frequentare le lezioni in presenza (O.M. n. 134 del 09/10/2020). La condizione di fragilità è valutata e certificata dal Medico di Medicina Generale in raccordo con il Dipartimento di Prevenzione territoriale.
SOCIOLOGY OF ART CONSUMPTION - [EM3A11] (180834): Moodle registration
Published on 27/12/2021
If you plan to attend this class, please register in the Moodle page no later than January 20th 2021.
This is needed in order to access the class texts and activities and, if possible (depending on the attending students) organize the students in groups.

LABORATORIO DI ARTE E INCLUSIONE SOCIALE - [FT0542] (183806): registrazione su spazio Moodle
Published on 27/12/2021
Si pregano gli e le student* frequentanti il laboratorio - la cui frequenza è obbligatoria e il cui test finale includerà anche un lavoro di gruppo - di registrarsi entro e non oltre il 20 Gennaio 2022 sullo spazio Moodle dedicato,
in modo da poter organizzare i gruppi e le attività..
CRITICAL ANIMAL STUDIES - [LMH390] VENEZIA (189700): Moodle registration
Published on 27/12/2021
If you plan to attend this course, please register in the dedicated Moodle space no later than January 20th 2022.
Thank you.
follow the feed