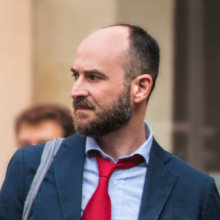 Angelo Maria MONACO
Position

Associate Professor
E-mail
Scientific sector (SSD)

MUSEOLOGIA E CRITICA ARTISTICA E DEL RESTAURO [L-ART/04]
Website

www.unive.it/persone/angelomaria.monaco (personal record)

Office
Office hours

Upcoming undergraduate and student receptions

THURSDAY 21 September, 5 october, 12 october


in the studio, 3rd floor, in Malcanton Marcorà, from 10:30 to 12:30.
N.B.

THE REVIEW MATERIAL WITH THE STUDENT'S NAME AND DELIVERY DATE SHOULD BE DELIVERED IN PRINTED FORMAT AT LEAST 10 DAYS BEFORE THE CHOSEN DATE OF RECEIPT, TO THE TEACHER'S PO BOX IN MALCANTON MARCORA'. MATERIAL SENT BY MAIL WILL NOT BE CONSIDERED.
follow the feed