PALTRINIERI Gian Luigi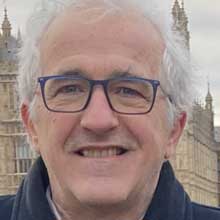 THEORETICAL PHILOSOPHY - [LT9025] (177826): Info about the esam session of Theoretical Philosophy
Published on 24/01/2021
Dear Students,
as concerns the exam session of Theoretical Philosophy, which will take place on 26th January, here is some information.
We'll use 'Compito' through Moodle.
At 10:00 A.M. on January 26th Moodle will allow you the access - in topic 6 (argomento 6) - to the file (format: word) that the undersigned will have previously uploaded. You will find four passages taken from Plato's Republic and/or from the other essays that are included in the Syllabus.
After each textual passage, which you are called to explain, enter your answer - each answer should not exceed 25 lines. The exam lasts no more than two hours. Therefore do keep in mind that you are requested to deliver the paper in two hours (12:00 A.M.)
Once you have finished and you want to deliver, i.e. you want to upload your test permanently, press the 'delivery' icon (premi consegna).
I advise not to wait for the last five minutes from the deadline, in fact connection problems may arise.
Should you be unable to complete the delivery (consegna) procedure, please, do not panic! (1) Try to change browser; (2) send me an email immediately to report the problem; (3) If the impediment persists, you can send me the written test in attachment, via email (gpaltri@unive.it).
The identification of the candidate is automatic when you log in, in any case please add your name, surname and matricola number.
In the previous exam sessions some students copied their answers from web sources!! In such a case there are two consequences: (1) the test is canceled, (2) the student has deceived himself/herself.
Important: only three of you (Carraro, Torlai, Vialetto) have communicated to be NON attending students so far. Should there be anyone else, please, write to me an email.
Best wishes
Gian Luigi Paltrinieri
INFO: Office Hours - Ricevimento
Published on 24/01/2021
Office hours continue to be held on line (via Skype or via Zoom). Please, contact me at gpaltri@unive.it
I'll respond only to questions whose answers are not already available on the University's websites or closely related to the secretarial offices (first of all the Humanistic Campus, Campo umanistico, or immatricolazioni@unive.it).
Students interested in asking the undersigned to act as rapporteur for their final test or for the Master's thesis are expected to do it in the office hours, rather than by an email. All this, however, must absolutely take place before submitting the degree application ("domanda di laurea") online.
Finally, let me remind that when you send an email to a professor, it is an institutional message to a person who plays an institutional role and therefore cannot start either with 'hello' or even with a simple 'good morning'.
Il ricevimento continua ancora da remoto, via Skype o via Zoom.
Rispondo solo a questioni le cui risposte non siano già disponibili sulle pagine web dell'Università oppure di stretta pertinenza degli uffici di segreteria (in primo luogo il Campus umanistico o l'ufficio immatricolazioni).
Scusandomi con quanti sanno già quanto ora verrò dicendo, mi permetto di ricordare che quando si invia un email a un docente, esso vale come messaggio istituzionale a persona che svolge un ruolo istituzionale e quindi non può iniziare con un semplice 'salve' e nemmeno con un mero 'buongiorno'. Un messaggio email va debitamente intestato (in ambito universitario: Gentile Prof. ... ) ed è buona regola da tener presente anche dopo laureati, in contesti lavorativi o pubblici diversi da quelli accademici.
Studenti che siano interessati a chiedere al sottoscritto di fungere da relatore per la prova finale triennale o per la tesi di laurea magistrale sono vivamente pregati di farlo di persona a ricevimento, anziché affidarsi a un messaggio di posta elettronica. Tutto questo, peraltro, deve assolutamente avvenire, prima di inoltrare on-line la domanda di laurea.

follow the feed