PALTRINIERI Gian Luigi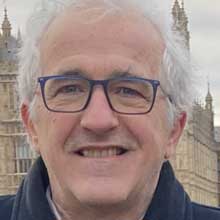 Theoretical Philosophy: 2021-22 Syllabus
Published on 23/07/2021
Theoretical Philosophy 2021-22
Title: Secularisation and Politics
Karl Löwith, Meaning in History, The University of Chicago Press, London 1949;
Hans Blumenberg, The Legitimacy of Modern Age, only the Part I [available on Moodle];
Robert Bellah, The Civil Religion, 1966;
Charles Taylor, A Secular Age, The Belknap Press of Harvard University Press, London 2007, only the Introduction, pp. 1-22;
Matthew Scherer, Landmarks in the Critical Studies of Secularism, in «Cultural Anthropology», 2011, Vol. 26, No. 4, pp. 621-632 [available on Moodle];
John L. Esposito, Rethinking Islam and Secularism, the ARDA papers, 1998 [available on Moodle];
Bassam SA Haddad, Islamic Liberals and Secularism, in «The Arab Studies Journal», 1993, 1(2), pp. 26-31, [available on Moodle];
M. Dressler, A. Salvatore and M. Wohlrab-Sahr, Islamicate Secularities in Past and Present, in «Historical Social Research / Historische Sozialforschung» , 2019, 44(3), pp. 7-34.
W.H. Swatos, K. J. Christiano, Secularisation Theory: the Course of a Concept, in The Secularisation Debate, ed. by W.H. Swatos and D.V.A. Olson, Rowman & Littlefield Publishers, New York 2000, pp. 1-20 [available on Moodle].
The word 'secularisation' comes from the Latin 'saeculum', which means both an age (or era) but also 'the world', the world "out there". At first sight secularisation simply consists in the transposition of religion into the 'saeculum', that is, into this world. On the one hand the secularisation theory maintains that «in the face of scientific rationality, religion's influence on all aspects of life – from personal habits to social institutions—is in dramatic decline» (Swatos, Christiano 2000, 6): the sacred has lost its dominance, replaced by enlightened science, capitalism, high technology and humanistic education. Yet, on the other hand, millions of people still believe in God and references to the transcendent still persist. Furthermore, even today, in the age of secularisation, many political narratives are nourished by words, symbols and images taken from theological and religious backgrounds. The course aims at shedding some light about such a crucial intertwining. Some examples will be found in the North-American context, still the analysis will be not limited to the Jewish-Christian context. In fact, modernity cannot be reduced to the Euro-American socio-cultural context and modernities are as many as secularisations.
Secularisation as a prosaic translation of religious narratives? Secularisation as a loss of references to what is holy and transcendent? What's the difference between secularisation and secularism?
INFO: Office Hours - Ricevimento
Published on 23/07/2021
Office hours continue to be held on line (via Skype or via Zoom). Please, contact me at gpaltri@unive.it
I'll respond only to questions whose answers are not already available on the University's websites or closely related to the secretarial offices (first of all the Humanistic Campus, Campo umanistico, or immatricolazioni@unive.it).
Students interested in asking the undersigned to act as rapporteur for their final test (BA degree thesis) are expected to do it in the office hours, rather than by an email. All this, however, must absolutely take place before submitting the degree application ("domanda di laurea") online.
Finally, let me remind that when you send an email to a professor, it is an institutional message to a person who plays an institutional role and therefore cannot start either with 'hello' or even with a simple 'good morning'.
Il ricevimento continua ancora da remoto, via Skype o via Zoom.
Rispondo solo a questioni le cui risposte non siano già disponibili sulle pagine web dell'Università oppure di stretta pertinenza degli uffici di segreteria (in primo luogo il Campus umanistico o l'ufficio immatricolazioni).
Scusandomi con quanti sanno già quanto ora verrò dicendo, mi permetto di ricordare che quando si invia un email a un docente, esso vale come messaggio istituzionale a persona che svolge un ruolo istituzionale e quindi non può iniziare con un semplice 'salve' e nemmeno con un mero 'buongiorno'. Un messaggio email va debitamente intestato (in ambito universitario: Gentile Prof. ... ) ed è buona regola da tener presente anche dopo laureati, in contesti lavorativi o pubblici diversi da quelli accademici.
Studenti che siano interessati a chiedere al sottoscritto di fungere da relatore per la prova finale triennale o per la tesi di laurea magistrale sono vivamente pregati di farlo di persona a ricevimento, anziché affidarsi a un messaggio di posta elettronica. Tutto questo, peraltro, deve assolutamente avvenire, prima di inoltrare on-line la domanda di laurea.

follow the feed