PALTRINIERI Gian Luigi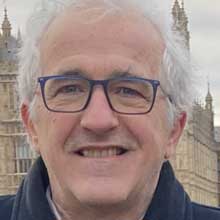 FILOSOFIA TEORETICA II - [FT0440] VENEZIA (168940): appello 17 dicembre
Published on 04/12/2019
Gentili Studentesse, gentili Studenti,
l'appello del 17 dicembre, che in precedenza non era previsto, va considerato riservato a quanti abbiano una stretta necessità di non rinviare l'esame a gennaio.
Esso cade anche in concomitanza di un Convegno, in cui sono tra i partecipanti, e quindi avrei pure difficoltà a tenere numerosi colloqui d'esame.
Peraltro ritengo che mirando a gennaio abbiate più tempo per studiare e approfondire le questioni emerse nel corso.
Cordialmente
Gian Luigi Paltrinieri
Ricevimento - Office Hours
Published on 02/12/2019
Dal primo di aprile sino a dicembre 2019 il ricevimento avrà luogo ogni giovedì dalle ore16:00 alle 18:00. Non è necessario prenotarsi, ma solo verificare, prima di mettersi in viaggio, che esso non abbia dovuto subire variazioni nella settimana interessata - è sufficiente, quindi, controllare gli avvisi personali del sottoscritto.
Il docente risponde solo a questioni le cui risposte non siano già disponibili sulle pagine web dell'Università oppure di stretta pertinenza degli uffici di segreteria (in primo luogo il Campus umanistico).
Scusandomi con quanti sanno già quanto ora verrò dicendo, mi permetto di ricordare che quando si invia un email a un docente, esso vale come messaggio istituzionale a persona che svolge un ruolo istituzionale e quindi non può iniziare con un semplice 'salve' e nemmeno con un mero 'buongiorno'. Un messaggio email va debitamente intestato ed è regola da non dimenticare anche dopo laureati.
Studenti che siano interessati a chiedere al sottoscritto di fungere da relatore per la prova finale triennale o per la tesi di laurea magistrale sono vivamente pregati di farlo di persona a ricevimento, anziché affidarsi a un messaggio di posta elettronica. Tutto questo, peraltro, deve assolutamente avvenire, prima di inoltrare on-line la domanda di laurea.
From April 1st to December 2019 office hours will be every Thursday from 4 P.M. to 6 P.M. It is not necessary to book, but only, first of all, check my personal communications (on "avvisi personali") on the website for any possible change.
I'll respond only to questions whose answers are not already available on the University's websites or closely related to the secretarial offices (first of all the Humanistic Campus, Campo umanistico).
Students interested in asking the undersigned to act as rapporteur for their final test or for the Master's thesis are expected to do it in person in the office hours, rather than by an email. All this, however, must absolutely take place before submitting the degree application ("domanda di laurea") online.
Finally, let me remind that when you send an email to a professor, it is an institutional message to a person who plays an institutional role and therefore cannot start either with 'hello' or even with a simple 'good morning'.

follow the feed