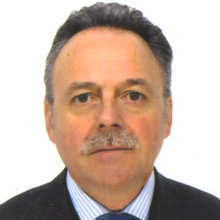 Office hours
Venice – San Giobbe – Department of Management – C1 building – third floor – room "collaboratori"
Monday 4-5 pm; Tuesday 2.30-3.30 pm
It's mandatory to sent an email to professor the day before the office hours.

Notices
DIRITTO DELLA CRISI E DELL'INSOLVENZA - [EM4065] (191332): indicazioni per redazione tesi
Published on 19/01/2023
È molto importante accompagnare la frequenza alle lezioni e lo studio della materia con l'utilizzo sistematico del testo del Codice della crisi e dell'insolvenza e degli altri testi legislativi di seguito indicati.
In particolare:
il testo del Codice della crisi e dell'insolvenza, aggiornato e coordinato con le modifiche da ultimo apportate dal d. lgs. n. 83 del 2022, con tavole sinottiche di raffronto con il testo originario del Codice e le altre successive modifiche, è reperibile, tra gli altri, sul seguente link
http://www.centrocrisi.it/materiali/
nello stesso link sono reperibili, all'interno delle tavole sinottiche, anche i testi aggiornati delle previgenti Legge Fallimentare e Legge n. 3 del 2012 sul sovraindebitamento
Il testo della Direttiva (UE) 2019/1023 Insolvency è reperibile, accompagnato da un quadro di sintesi, nel sito
https://eur-lex.europa.eu/legal-content/IT/TXT/?uri=CELEX:32019L1023#:~:text=Direttiva%20(UE)%202019%2F1023,la%20direttiva%20(UE)%202017%2F
ricevimento studenti
Published on 19/01/2023
Si avvisano gli studenti che hanno partecipato alla prova d'esame del 23 dicembre 2022 che il giorno 11.1.2023 alle ore 15 il docente, dopo la pubblicazione dei risultati degli esami, procederà, per gli studenti che lo desiderano, all'illustrazione delle risposte del test.
L'incontro si terrà nell'aula di esame 7/A se disponibile. In caso contrario di procederà al momento all'individuazione di altra aula disponibile.
follow the feed