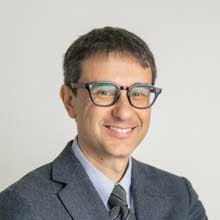 Office hours
Venice – San Giobbe – Department of Management – C1 building – ground floor – room n.48
For more details, see the "Avvisi docente" section of this page.
Students are expected to attend office hours to:

Ask for thesis supervision
Discuss thesis progress
Ask for internship tutoring
Ask for clarifications about a lesson or an exam
Notices
Ricevimento studenti
Published on 30/01/2023
Il ricevimento degli studenti si svolgerà nelle date e orari seguenti, in presenza o in collegamento Zoom secondo quanto indicato.
Per il ricevimento in presenza è necessario prenotare all'indirizzo:

https://calendar.google.com/calendar/selfsched?sstoken=UUZyMXZhOHVnd1RDfGRlZmF1bHR8Mzc5ZjYwY2IyNjc3OGJlZWVlMWVhMDQzMTk5YTRkYTY

Avendo l'accortezza di utilizzare il primo slot libero.

Il ricevimento in collegamento Zoom si svolge nella room Zoom ID: 440 248 4993
Gli interessati possono collegarsi senza preavviso e dovranno poi attendere di essere ammessi al termine della conversazione precedente e in ordine di arrivo. Nel caso l'attesa dovesse protrarsi significa che ci sono molti prima di voi. Tutti saranno comunque ammessi.
PROSSIMI RICEVIMENTI STUDENTI
31/01 dalle ore 14,00 in presenza
06/02 dalle ore 9:00 in collegamento
15/02 dalle ore 10,00 in presenza
24/02 dalle ore 9,00 in collegamento
Si ricorda che è sempre necessario ricorrere al ricevimento studenti (indifferentemente in presenza o collegamento) per:
Proposta di tesi di laurea
Discussione dell'avanzamento del lavoro di tesi o correzione di materiale inviato
Richiesta di supervisione di tirocinio
Richiesta di chiarimenti su lezioni e testi d'esame
ECONOMIA AZIENDALE - 1 - Cognomi Lb-Z [ET0017-1] TREVISO (206034): Convocazione prova orale 03/02/2023
Published on 30/01/2023
Chiedere direttamente il giorno dell'esame in portineria indicazioni sullo studio o aula dove si svolgeranno i colloqui.
Ore 9:00 da LONGHI a NAVARRA
Ore 10:00 da PAVANELLO a SCOTTON
Ore 11:00 da SLAVIERO a TRONCHIN
Ore 12:00 da URRU a ZARA
follow the feed