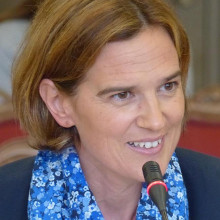 CORO' Paola
Position

Associate Professor
Roles

Department's Delegate for e-Learning

Telephone

041 234 6325
E-mail
Scientific sector (SSD)

ASSIRIOLOGIA [L-OR/03]
Website

www.unive.it/persone/coropa (personal record)

Office
Office hours
Contact hours: Wednesdays, 2 pm. F2F exclusively. Students are required to book their place writing an e-mail (subject: CONTACT HOURS) to coropa@unive.it. Please make sure to place your requeste well in adavance to the required date and to specify the reasons for your request in the e-mail, so that you will be allocted a congrous time-slot.
Students who did not pre-book, will not be received.

Notices
stage di epigrafia sumero-accadica digitale
Published on 01/09/2022
Si prevede a breve l'attivazione di una nuova e aggiornata edizione dello stage di epigrafia sumero-accadica digitale collegato al progetto LIBER diretto dalla docente (per informazioni sul progetto: www.unive.it/liber). Lo stage sarà aperto a tutti gli studenti di triennale e magistrale regolarmente iscritti all'ateneo: benchè non obbligatoria, è preferibile una conoscenza pregressa dell'Assiriologia e in caso di sovrannumero sarà data la preferenza a studenti in possesso di conoscenze di base.
Gli studenti che frequenteranno il corso di Assiriologia e/o Epigrafia sumero-accadica nell'a.a. in corso saranno considerati in possesso dei requisiti preferenziali.
Adeguata pubblicità dell'inziatica e delle sue caratteristiche sarà assicurata a partire dalla data di inizio delle lezioni. Gli studenti che fossero comunque già interessati a partecipare o a conoscere meglio i dettagli dell'iniziativa possono scrivere una mail alla docente all'indirizzo coropa@unive.it.
FILOLOGIA SEMITICA SP. - [FM0300] VENEZIA (216622): calendario e indicazioni per studenti fragili e non frequentanti -- rettifica
Published on 01/09/2022
Calendario
Le lezioni di Filologia semitica sp. inizieranno, come da calendario accademico, lunedì 12 settembre.
Si informano fin da subito gli studenti che a causa di una missione all'estero della docente le lezioni dei giorni 26-27 settembre saranno sospese e saranno recuperate il 17-18 ottobre.
Studenti frequentanti e non frequentanti
La frequenza, benchè non obbligatoria, è vivamente caldeggiata; gli studenti non frequentanti sono invitati a contattare tempestivamente la docente via e-mail per concordare un ricevimento nel quale definire un programma d'esame sostitutivo.
Studenti appartenenti a categorie fragili
Dato il carattere della disciplina, che prevede una partecipazione attiva degli studenti, gli studenti appartenenti a categorie fragili (certificate dall'Università) che prevedono di non frequentare il corso in presenza sono altresì invitati a contattare la docente via e-mail, ai fini della attivazione di modalità didattiche alternative a loro esclusivamente riservate.
follow the feed