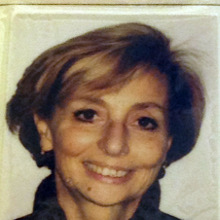 Office hours
Sede di San Giobbe, Venezia
Studio docente: studio 303, terzo piano, plesso E
In applicazione delle misure di prevenzione a seguito dell'emergenza epidemiologica da COVID-19 disposte dal Governo, il ricevimento si terrà da remoto il martedì dalle 12.30 alle 14.00, previa prenotazione a mezzo mail contattando la docente.
As required by the current measures put in place by the Italian government due to the COVID-19 outbreak, office hours will be held remotely on Tuesdays from 12.30 am to 2.00 pm. Reservation via e-mail is required.
SUPERVISIONE TESI
Si accetta la supervisione di tesi triennali e magistrali preferibilmente su temi di Diritto privato e Diritto dell'Internet e del commercio elettronico, come da programma; e su temi di Diritto dei contratti pubblici (in tal caso, solo tesi magistrali).
I am interested in both three-year and master's theses focusing on Private law, Internet law issues and Public contracts law (in this case,just master's theses).

follow the feed