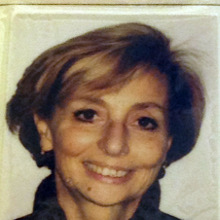 Office hours
Sede di San Giobbe, Venezia
Studio docente: studio 303, terzo piano, plesso E
Il ricevimento si terrà il martedì dalle 12.30 alle 14.00, previa prenotazione a mezzo mail contattando la docente.
Office hours will be held on Tuesdays from 12.30 am to 2.00 pm. Reservation via e-mail is required.
SUPERVISIONE TESI
Si accetta la supervisione di tesi triennali e magistrali preferibilmente su temi di Diritto privato e Diritto dell'Internet e del commercio elettronico, come da programma; e su temi di Diritto dei contratti pubblici (in tal caso, solo tesi magistrali).
I am interested in both three-year and master's theses focusing on Private law, Internet law issues and Public contracts law (in this case,just master's theses).

Notices
DIRITTO DEI CONTRATTI E DEGLI APPALTI PUBBLICI - [EM1106] VENEZIA (189722): Avvio corso di lezioni 2022-23
Published on 07/09/2022
Le lezioni del Corso di Diritto dei contratti e degli Appalti avranno inizio lunedì 12 settembre, alle ore 10,30, in Aula 7B - Campus S.Giobbe. Il Syllabus del corso sarà visibile nelle prossime ore.
Gli studenti interessati al corso sono invitati a seguire di presenza tutte le lezioni e a partecipare alle attività seminariali proposte dalla docente. Si terrà conto della partecipazione a tali attività ai fini dell'esame di profitto. La frequenza è fortemente suggerita anche ai fini della conoscenza delle novità normative in continua pubblicazione in questa materia. Si consiglia anche l'iscrizione alla scheda del corso nella piattaforma Moodle.
Verranno proposti seminari esterni e testimonianze di esperti.
Non si terranno lezioni in streaming e le stesse non verranno registrate. Apposito materiale didattico verrà fornito soltanto agli studenti appartenenti alle categorie protette individuate dall'ateneo.
follow the feed