GIACHETTI Claudio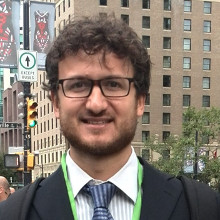 ENTREPRENEURSHIP AND BUSINESS MODELS - [EM1303] (170993): Oral exam on January 26, via Zoom
Published on 15/01/2021
In view of the protraction of the covid-19 emergency, the exam of the course "ENTREPRENEURSHIP AND BUSINESS MODELS" (EM1303), held by Prof C. Giachetti, will be held exceptionally in oral form, online, through Zoom. The date of the oral exam is Tuesday 26 January, from 9:00 am. Once the registration list is closed, students will receive information about the link which they must access on January 26 to participate in the oral exam with Zoom. At 9:00 am on January 26th, the teacher will make the roll call, and enrolled students will be questioned in alphabetical order. Only regularly enrolled students will be able to take the oral exam, who must have presented the project work in class, and must present with a working webcam.
---
A fronte del protrarsi dell'emergenza covid-19, l'esame dell'insegnamento "ENTREPRENEURSHIP AND BUSINESS MODELS" (EM1303), tenuto dal Prof C. Giachetti, verrà svolto eccezionalmente in forma orale, online, attraverso Zoom. La data dell'orale è stata fissata per il giorno martedì 26 Gennaio, dalle ore 9:00am. Una volta chiusa la lista per le iscrizioni, gli studenti riceveranno informazioni riguardo il link al quale dovranno accedere il 26 gennaio per partecipare all'esame orale con Zoom. Alle ore 9:00am del 26 Gennaio, il docente farà l'appello, e gli studenti iscritti verranno interrogati in ordine alfabetico. Potranno sostenere l'esame orale solo gli studenti regolarmente iscritti, i quali dovranno aver presentato il project work in classe, e dovranno presentrsi con una webcam funzionante.
Ricevimento studenti mese di Gennaio - Office hour in January
Published on 01/01/2021
Fino al protrarsi dell'emergenza covid-19, il ricevimento studenti si terrà in modalità telematica attraverso Google Meet.
Gli studenti devono contattare il docente via email, indicando il giorno (dalla lista sotto) in cui vorrebbero venire a ricevimento (occorre prenotarsi, scrivendo al docente non oltre mezzogiorno (12pm) del giorno prima del ricevimento).
Il docente collocherà il ricevimento di ciascun studente all'interno dello slot temporale prestabilito (vedi lista sotto), sulla base della disponibilità. Lo studente riceverà un'email con il link alla stanza virtuale, e possibilmente 5 minuti prima dell'orario del suo ricevimento dovrà cliccare sul link Join Hangouts Meet (or "Join with Google Meet"). Il docente farà il possibile per essere puntuale.
Martedì 12 Gennaio, dalle ore 9:00 alle 11:00
Lunedì 18 Gennaio, dalle ore 9:00 alle 11:00
Mercoledì 27 Gennaio, dalle ore 9:00 alle 11:00
---
Until the covid-19 emergency continues, the student reception will be held electronically through Google Meet.
Students must contact the teacher via email, indicating the day (from the list below) on which they would like to come to the reception (it is necessary to book by writing to the teacher no later than 12pm on the day before the reception).
The teacher will place each student's reception within the predetermined time slot (see list below), based on availability. The student will receive an email with the link to the virtual room, and possibly 5 minutes before the time of her/his reception s/he will have to click on the link Join Hangouts Meet (or "Join with Google Meet"). The teacher will do everything possible to be on time with each student.
Tuesday 12 January, from 9am to 11am
Monday 18 January, from 9am to 11am
Wednesday 27 January, from 9am to 11am

follow the feed