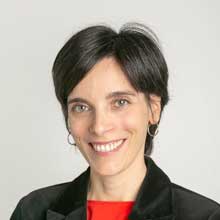 Caterina CRUCIANI
Position

Researcher
Roles

Management Committee of the University Scientific Instrumentation Service Center (CSA)'s Member

Telephone

041 234 6980
E-mail
Scientific sector (SSD)

ECONOMIA DEGLI INTERMEDIARI FINANZIARI [SECS-P/11]
Website

www.unive.it/people/cruciani (personal record)

Office

Department of Management
Website: https://www.unive.it/dep.management
Where: San Giobbe

Office hours
OFFICE HOURS
Venice – San Giobbe – Department of Management – C1 building – first floor – room n.114b
It's mandatory to fill the form on the previous day of office hour by 6.00 p.m: https://docs.google.com/spreadsheets/d/1Zu0AYBZktLEBF4wUBKTpdjMr5VRMmKgsDcLaQ-RoDnA/edit?usp=sharing
INFORMATION FOR PROSPECTIVE GRADUANDS
All students interested in working at their thesis (Bachelor's or master's) with me should first read the guides at https://www.unive.it/pag/15461/
All new supervisees will be accepted only during the time windows discussed in the guides after the evaluation of the Thesis-proposal forms (Bachelor and Master) submitted on top of the Supervisor request. Regarding topics, I encourage students to present requests that are consistent with my research interests or the courses I teach.Students are welcome to come see me at office hours to discuss their ideas and the form content before submission.
Once the presentation window for requesting me as a supervisor is closed, I will evaluate all requests focusing on the thesis-proposal form and provide a reply through the supervisor selection procedure. All requests for which no thesis-proposal form has been submitted will be rejected.
It is possible to come see me during office hours during the development of the Thesis proposal.

follow the feed