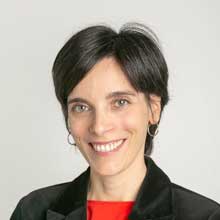 CRUCIANI Caterina
Position

Researcher
Roles

Management Committee of the University Scientific Instrumentation Service Center (CSA)'s Member

Telephone

041 234 6980
E-mail
Scientific sector (SSD)

ECONOMIA DEGLI INTERMEDIARI FINANZIARI [SECS-P/11]
Website

www.unive.it/persone/cruciani (personal record)

Office

Department of Management
Website: https://www.unive.it/dep.management
Where: San Giobbe

Office hours
OFFICE HOURS
Venice – San Giobbe – Department of Management – C1 building – first floor – room n.114b
It's mandatory to fill the form on the previous day of office hour by 6.00 p.m: https://docs.google.com/spreadsheets/d/1Zu0AYBZktLEBF4wUBKTpdjMr5VRMmKgsDcLaQ-RoDnA/edit?usp=sharing
Any last-minute changes will be communicated directly to the students who signed up for the office hour.
INFORMATION FOR PROSPECTIVE GRADUANDS
All students that wish to discuss their ideas about a thesis (Bachelor or Master's) with me should book an appointment during my office hours. After we agree on a topic and tentative title, all future graduands should fill out the procedure for the assignment of thesis supervisor (specific to the Management Department). This procedure does not replace the Domanda di Laurea, which will need to be filled out closer to the graduation date and is a responsibility of the students alongside all formal deadlines regarding the graduation.

follow the feed