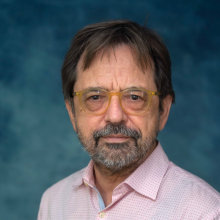 PASCHKE Peter Martin
Position

Researcher
Telephone

041 234 7844
E-mail
Fax

041 234 7850
Scientific sector (SSD)

LINGUA E TRADUZIONE - LINGUA TEDESCA [L-LIN/14]
Website

www.unive.it/persone/paschke (personal record)

Office hours
During the lecture period of the I semester 2022-23 (14/9-21/12/22), consultation hours, unless otherwise indicated, will be held on
Wednesdays from 10.30 a.m. to 12.30 p.m. in the lecturer's office in Palazzo Cosulich (Zattere).
Reception on 28/9 is suspended due to illness.

Notices
LINGUA TEDESCA 1 - Classe 1 [LT0052] (206456): Iscrizione necessaria allo spazio moodle del modulo docente
Published on 03/10/2022
Gli studenti che frequentano Lingua tedesca 1 (LT0052) sono pregati di iscriversi non solo allo spazio moodle delle esercitazioni linguistiche (dott.sse Feldner, Mühlichen e Neumann), ma fin da subito anche allo spazio moodle del/la proprio/a docente del corso teorico (modulo docente) secondo lo schema seguente:
Gli studenti LCSL dell'curriculum politico-internazionale con tedesco triennale si iscrivono allo spazio moodle della prof.ssa Cognola (classe 2): https://moodle.unive.it/course/view.php?id=13226
Tutti gli altri (studenti LCSL del curr. letterario-culturale e del curr. linguistico-glottodidattico-filologico; studenti LCSL con cfu liberi; studenti di altri CdL, studenti che seguono corsi singoli ecc.) si iscrivono allo spazio moodle del prof. Paschke (classe 1): https://moodle.unive.it/course/view.php?id=13258
In questi spazi moodle vengono pubblicati, già nel primo semestre, informazioni e materiali di interesse per gli studenti.
follow the feed