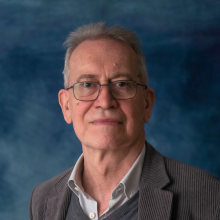 NEWBOLD David John
Position

Associate Professor
Telephone

041 234 7835
E-mail
Fax

041 234 7850
Scientific sector (SSD)

LINGUA E TRADUZIONE - LINGUA INGLESE [L-LIN/12]
Website

www.unive.it/persone/newbold (personal record)

Office hours
Notices
orario ricevimento 22 marzo / office hours March 22nd
Published on 19/03/2023
Office hours on March 22nd will be held at 12 noon instead of 11 am. Please email me to book a slot.
LINGUA INGLESE 1 - Classe 2 [LT006P] (203618): Change of room
Published on 10/03/2023
From Tuesday March 14th the course for Lingua Inglese 1 Classe 2 (ore 17.30) will be held in MF5 (a short walk from the room we are currently using in San Basilio).
follow the feed