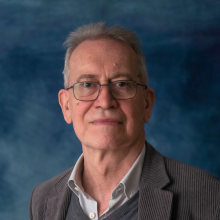 NEWBOLD David John
Position

Associate Professor
Telephone

041 234 7835
E-mail
Fax

041 234 7850
Scientific sector (SSD)

LINGUA E TRADUZIONE - LINGUA INGLESE [L-LIN/12]
Website

www.unive.it/persone/newbold (personal record)

Office hours
Notices
upcoming office hours / prossimi ricevimenti
Published on 05/10/2022
My next office hours will be held on WEDNESDAY 26th OCTOBER at 14.00, in person in Palazzo Cosulich. From November I shall revert to the usual time, wednesdays at 11.00.
Prossimo ricevimento il 26 ottobre alle ore 14. Da novembre in poi riprendo il ricevimento i mercoledì alle 11.00
LCSL inglese 1 information for new students
Published on 08/09/2022
In attachment you will find the slides used in the presentation to matricole held on Spetember 7th.
You will find information about groups, textbooks, and assessment.
Please note that my moodle will be opened at the beginning of the second semester, when I shall be teaching the course 'The sound sytem of English', In the first semester, you should identify your lettorato group (Dott. Conboy, Dougherty, or Moore) and attend their courses.
follow the feed