COMACCHIO Anna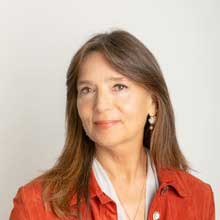 ORGANIZING IN A DIGITAL WORLD - [ET7011] RONCADE (170908): INFORMAZIONI PER ESAME DEL 29 GENNAIO 2021
Published on 26/01/2021
LINEE GUIDA in preparazione dell'esame scritto di Organizing in the digital world del 29.01.2021
- l'esame scritto del 29 Gennaio sarà erogato via moodle e via link google meet , il link vi verrà inviato un giorno prima dell'esame via mail
- obbligatorio iscriversi alla pagina moodle del corso - NON si ha accesso all'esame se ci si è iscritti solo a essetre
- presentarsi con doppio device : smartphone, per controllo laterale e pc per sostenimento esame via moodle , si dovrà accedere a meet con ambedue
- alle 9.30 ci si connette a mett per i controlli pre-esame
- entrare in meet etichettandosi con Cognome e Nome, in questa sequenza, per le operazioni di controllo
- l'esame sarà una multiple choice di 30 domande
- durata 60 minuti
- scorrimento libero tra domande
- valutazione come da esame precedente e pdf di simulazione in moodle
GUIDELINES FOR THE WRITTEN EXAM
in preparation for the written exam of Organizing in the digital world on 29.01.2021, Professor Comacchio sends you the following information, which can also be found in her notices page:
- the written exam of January 29 will be delivered via moodle and via Google Meet link, the link will be sent to you one day before the exam via email
- it is compulsory to register on the course moodle page - you do NOT have access to the exam if you have registered only on essetre
- show up with two devices: smartphone, for lateral control and pc for the exam via moodle, you will have to access GMeet with both of them
- at 9.30 you connect to GMeet for pre-exam checks
- enter in GMeet labelled with Last Name and First Name, in this sequence, for the control operations
- the exam will be a multiple choice of 30 questions
- duration 60 minutes
- free scrolling between questions
- evaluation as in the previous exam and moodle simulation
RICEVIMENTO
Published on 24/01/2021
Il prossimo ricevimento onlie è programmato giovedì 28 gennaio 2021 ore 11-12
Anna Comacchio is inviting you to a scheduled Zoom meeting.
Topic: Anna Comacchio's Personal Meeting Room
Join Zoom Meeting
https://unive.zoom.us/j/7925323360
Meeting ID: 792 532 3360
Passcode: B8AZU4
ORGANIZING IN A DIGITAL WORLD - [ET7011] RONCADE (170908): WRITTEN EXAM 29.01.2021
Published on 07/01/2021
Dear Students
the exam of January 29th will be structured very close to the one you can find in the moodle page of the course: - exam simulation
It will be a written exam with multiple choices and some questions - small cases with a simple answer of a few words, for a total of 28 to 30 questions
Time available will be around 45 minutes and grading will be the same of he previous exam: wright answer = 1 point, wrong answer = -0.5 , no answer = 0.
Points of the project-work (developed during the course in september - october 2020) are still valid in this date, not in the further dates of May and September 2021.
Program of the exam can be found in the slides of the Course presentation session - moodle page.

follow the feed