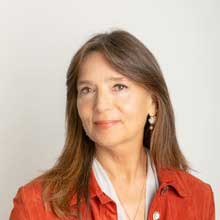 Office hours
Venezia - San Giobbe - Dipartimento di Management - studio n. 121, primo piano, ala C 1
Durante l' Anno Accademico 2021-2022 il ricevimento della professoressa Comacchio si tiene presso il suo ufficio il giovedì dalle ore 9.30 alle ore 11.00. Scrivere via email al docente per concordare un appuntamento, prestando cortese attenzione anche ad eventuali avvisi pubblicati al riguardo
Venice – San Giobbe – Department of Management – C1 building – first floor – room 121.
During the Academic Year 2021/2022 student hours will take place at her office on thursday 9.30 - 11.00. Interested students are asked to book a slot by e-mailing teacher: when doing so please check if there is any notice on the subject.

follow the feed