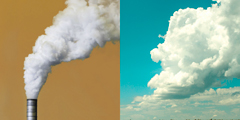 "Reactivating Elements. Chemistry, Ecology, Practice" - M.P. de la Bellacasa and D. Papadopoulos
Ca' Bottacin, Dorsoduro 3911 Venice
Maria Puig de la Bellacasa and Dimitris Papadopoulos
Reactivating Elements. Chemistry, Ecology, Practice.
22 September , 5.00 pm
Ca' Bottacin, Dorsoduro 3911, Calle Crosera - Venice
Editors and authors Maria Puig de la Bellacasa (Centre for Interdisciplinary Methodologies, University of Warwick) and Dimitris Papadopoulos (University of Nottingham) discuss Reactivating Elements. Chemistry, Ecology, Practice (Duke University Press 2022) with Roberta Raffaetà (NICHE, HealthXCross).
Engaging with the nonlinear historical significance of elemental thought across fields—chemistry, the biosciences, engineering, physics, science and technology studies, the environmental humanities, ecocriticism, and cultural studies—the contributors to Reactivating Elements examine the relationship between chemistry and ecology, probe the logics that render wind as energy, excavate affective histories of ubiquitous substances such as plastics and radioactive elements, and chart the damage wrought by petrochemical industrialization. How do elements become entangled with power and control, coloniality, racism, and extractive productivism? What are the alternative paths to environmental destruction? This presentation will help us think about the relationship between the elements and the elemental, human and more-than-human worlds, today's damaged ecosystems and other ecologies to come.
Praise for the book Reactivating Elements (from the Duke University press Website)
"This is a book populated by many of my favorite writers, analysts, and storytellers. Here, they resituate elemental things for me once again. The book is a kind of periodic table for recharting possible responses to Earth's troubled ecologies with verve and seriousness. These writers always take formal, aesthetic, and intellectual risks to say something important, and they have done it again. The book provokes curiosity because its authors are actually curious rather than self certain. Reactivating Elements is a book to savor!" — Donna J. Haraway, author of Staying with the Trouble: Making Kin in the Chthulucene
The lecture is organized in collaboration with European Centre for Living Technology (ECLT)
If you wish to participate online please use this Zoom link.
Language
The event will be held in English
Organized by
NICHE / ECLT
Link
https://unive.zoom.us/j/85255191538
Downloads