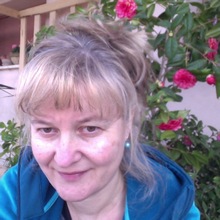 Sabrina MINUZZI
Position

Research Grant Holder
E-mail
Website

www.unive.it/people/sabrina.minuzzi (personal record)

Sabrina Minuzzi is a Marie Skłodowska-Curie Global Fellow in Early Modern History at Ca' Foscari and at Brown University (Providence). With Mario Infelise and Harold J. Cook she is developing her interdisciplinary project MAT-MED in Transit. The Transforming Knowledge of Healing Plants, which interweaves the study of the circulation of naturalia with that of the reception of related medical-scientific knowledge through the object book.
After graduating in Italian Studies from Ca' Foscari, she worked for several years in conservation libraries and archives, acquiring extensive experience in the field, supported by academic specialisations (Diploma of Archivista di Stato in Venice, Diploma of Scuola Speciale per Archivisti e Bibliotecari in Rome).
In 2012 she got her PhD in Historical and Anthropological Sciences in Verona with a research on the pharmaceutical practices of empirics and professionals who juggled domestic medicine and the medical marketplace. During her four-year postdoc at Oxford University she investigated the history of medicine in the delicate period of transition from manuscript to print.
Her research sometimes turned into books:
- Sul filo dei segreti. Farmacopea, libri e pratiche terapeutiche a Venezia in età moderna (Milano: Unicopli, 2016)
- Inventario di bottega di Antonio Bosio veneziano (1646-1694). Catalogo delle edizioni e delle incisioni (Venezia: Edizioni Ca' Foscari, 2013)
- Il secolo di carta. Antonio Bosio artigiano di testi e immagini nella Venezia del Seicento (Milano: FrancoAngeli, 2009)
Editing [selection]
Printing Medical Knowledge: Vernacular Genres, Reception and Dissemination, Special Issue of "Nuncius. Journal of the Material and Visual History of Science" (Brill), 2/2021 [Introduction, 193-197]
La peste e la stampa. Venezia nel XVI e XVII secolo (Venezia: Marsilio, 2020)
The Invention of the Author. The Privilegio in Renaissance Venice (Venice: Marsilio, 2017)
Articles [selection]
'Women in Secrets: Medical Inventions between Household, Guilds and Small Scale-Economy', in Antonella Romano, Paolo Savoia, Francesca Antonelli (eds), Gendered Touch: Women and Scientific Practice in early modern Europe (Leiden: Brill, in print)
'15th century Practical Medicine in Print: Beyond the Profession, towards the miscere utile dulci', Nuncius (Brill), 2/2021, 199-263
'Quick to say quack. Medicinal secrets from the household to the apothecary's shop in early eighteenth-century Venice', Social History of Medicine, 2019/1, 1-33 [2020 J. Worth Estes Prize (Annual award for the best published paper in the history of pharmacology during the previous two years)]
'Tommaso Giannotti Rangone: a life modeled on books and (not just medical) art', in Art, Faith and Medicine in Tintoretto's Venice, ed. by C. Klestinec and G. Matino (Venice: Marsilio, 2018), 43-57
'Fra storia e invenzione letteraria: nuovi documenti su Francesco Fulvio Frugoni e il Cane di Diogene', Studi Secenteschi, LVI (2015), 169-209
'Un editore artista e artigiano del libro', in Neri Pozza editore d'alta cultura (Vicenza: Biblioteca Bertoliana, 2012), 28-33 and Ivi, Catalogo della mostra, 41-57
'L'archivio storico Neri Pozza', La fabbrica del libro, 1/2004, 34-41
Last update: 25/09/2021
The information above have been uploaded on Ca' Foscari website direclty by the user this webpage refers to. The correctness and truthfulness of the published information are responsibilities of the relevant user.