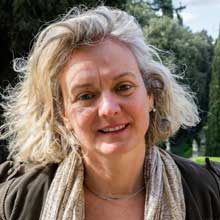 Sabrina MARCHETTI
Position

Associate Professor
Roles

Representative of the University in the Equal Opportunities, Employees' Well-being and Inclusion Committee

Telephone

041 234 7253
E-mail
Scientific sector (SSD)

SOCIOLOGIA DEI PROCESSI CULTURALI E COMUNICATIVI [SPS/08]
Website

www.unive.it/people/sabrina.marchetti (personal record)

Office
Office hours
Please fill out this form to book an appointment, and if necessary, please send me by email any material I need to read for our meeting at least one week ahead.
>>GENERAL NOTICE ABOUT THESIS SUPERVISION
I can supervise the thesis only for students who have done at least one exam with me, with a very good final evaluation.
The thesis topic should relate, at least in a broad sense, to the topics dealt with during such exams and in consideration of the overall framework of the corresponding study degree.
Given the high number of requests I am receiving, students who want to ask for supervision are advised to do so at least 8 months before the desired thesis defense session.
Students from "Lavoro, cittadinanza sociale interculturalità" MA program, can find more information and guidelines under my name, on this moodle . Pw is Tesi22/23.

follow the feed