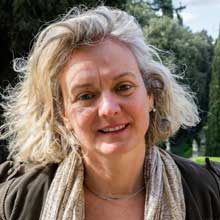 Sabrina MARCHETTI
Position

Associate Professor
Roles

Representative of the University in the Equal Opportunities, Employees' Well-being and Inclusion Committee

Telephone

041 234 7253
E-mail
Scientific sector (SSD)

SOCIOLOGIA DEI PROCESSI CULTURALI E COMUNICATIVI [SPS/08]
Website

www.unive.it/persone/sabrina.marchetti (personal record)

Office
Office hours
My office hours are every Tuesday from 2pm till 7pm.
Meetings will take place in my office, at the 4th floor of the Malcanton Marcorà bulding, except in case of online meetings, when necessary.
In any case, in order to reserve your slot, kindly send me an email, at least 2 days in advance, with 'office hours' in the object.
NB: office hours of 26 September are moved to 28 September
>>GENERAL NOTICE ABOUT THESIS SUPERVISION
I am available to supervise thesis only for students who have done at least one exam with me, with a very good final evalutaion.
The topic of the thesis should related, at least in the broad sense, to the topics dealt with during such exam, and in consideration of the overall framework of the correponding study degree.
Given the high number of requests that I am receiving, students who want to ask for supervision are advised to do so at least 8 months before the desired session of thesis defense.

follow the feed