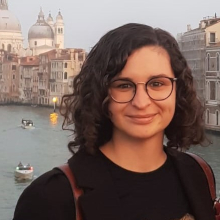 DELPOZZO Eleonora
Position

PhD Student
Website

www.unive.it/persone/eleonora.delpozzo (personal record)

Office
I am a PhD student in Ancient Heritage Studies (Ca' Foscari University of Venice, University of Trieste, University of Udine), with a fellowship in Digital and Public Humanities. After a Bachelor Degree in Cultural Heritage, I obtained a professional master in Open Source Technologies for Cultural Heritage (2014) and a Master Degree in Ancient Civilizations, specializing in Classical Archaeology, at Ca' Foscari University (2018). I have participated in several archaeological excavations in Italy and collaborated with international Universities in order to develop a strong interdisciplinary background in various digital tools applied to Archaeology and Cultural Heritage in general. My research is focused on Urban Planning and Architecture in the Northern part of Roman Italy and on the use of modern technologies, such as digital recording and 3D modeling, applied to the study and dissemination of these topics.
Last update: 04/10/2022
The information above have been uploaded on Ca' Foscari website direclty by the user this webpage refers to. The correctness and truthfulness of the published information are responsibilities of the relevant user.