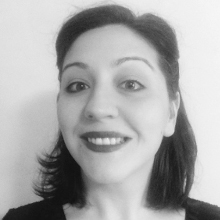 ZANNONI Marianna
Position

Adjunct Professor
E-mail
Website

www.unive.it/persone/marianna.zannoni (personal record)

Marianna Zannoni is a PhD in History of the Arts.
She works at the Institute for Theater and Opera of the Giorgio Cini Foundation as archive curator and scientific coordinator of the activities. She mainly deals with history of the actor and 19th-20th centuries theatrical photography and has curated several exhibitions on the subject. Among the projects curated are the design of Eleonora Duse's Room at the Cini Foundation and the permanent exhibition dedicated to Maria Callas at La Fenice theatre in Venice.
Among her latest publications, Il Teatro di Lyda Borelli (with M.I. Biggi, Alinari 2017) and Il teatro in fotografia. The image of the first Italian actress between the nineteenth and twentieth centuries (Titivillus 2018) and "Forse tu sola hai compreso". Letters from Eleonora Duse to Emma Lodomez Garzes (Marsilio 2021).
Last update: 08/10/2021
The information above have been uploaded on Ca' Foscari website direclty by the user this webpage refers to. The correctness and truthfulness of the published information are responsibilities of the relevant user.