LONGO Enrico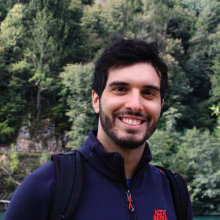 Current Position
Ph.D. Candidate in Economics, Ca' Foscari University of Venice.
Research interests:
Inequality, Redistribution and Distributive Justice
Experimental Game Theory
Behavioral Economics
Previous Education
2016-2017 MS.c. in Economics, Collegio Carlo Alberto, University of Turin.
2013-2015 MA in Professional and Financial Accounting, University of Turin. Cum laude. Thesis: "Economic inequalities and public intervention". Supervisor: Prof. Simone Pellegrino
2009-2012 BEc. in Business Administration, University of Bergamo. Thesis: "The multilateral barter of Hjialmar Schacht, prelude to Keynes's Clearing Union". Thesis Supervisors: Prof. Stefano Lucarelli and Prof. Giancarlo Beltrame
Professional Experience
2015 Studio Vernassa, Via Ormea 48, Torino (Italy). Activity: Part-time collaboration in a tax advisory firm, editing of a weekly fiscal press review document for the customers.
2015 KPMG Spa, Corso Vittorio Emanuele II, Torino (Italy).
2011-2013 Basketball Coach at Lussana Pallacanestro Bergamo, youth sector (Under 13 and Under 14).
Ultima modifica: 17/09/2020
Le informazioni riportate sono state caricate sul sito dell'Università Ca' Foscari Venezia direttamente dall'utente a cui si riferisce la pagina. La correttezza e veridicità delle informazioni pubblicate sono di esclusiva responsabilità del singolo utente.