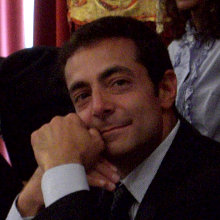 Vasco FRONZONI
Position

Adjunct Professor
E-mail
Website

www.unive.it/people/vasco.fronzoni (personal record)

Office
Activities and research skills
General information
Settore Scientifico Disciplinare (SSD) affine

DIRITTO PRIVATO COMPARATO [IUS/02]
Geographic areas in which the research experience mainly applies

Internazionale: Medio Oriente, Africa Caraibi e Pacifico,Europa
Known languages

francese (scritto: avanzato parlato: avanzato)
arabo (scritto: intermedio parlato: avanzato)
inglese (scritto: intermedio parlato: avanzato)
sagnolo (scritto: base parlato: base)

Participation in editorial boards of scientific journals/book series

- Direttore scientifico (Coordinatore settore Diritti confessionali) nella rivista Diritto e Religioni, Rivista giuridica di classe A - Direttore responsabile Prof.ssa Maria d'Arienzo - Casa Editrice Luigi Pellegrini editore (dal 2012)
(http://www.pellegrinieditore.com/banner-cinema.html?page=shop.browse&category_id=91)
- Membro dell'Advisory Board (Islamic Economics and Finance) del Journal of Islamic Research, Rivista giuridica internazionale multidisciplinare – Chief Editor Prof. Mehmet Bayrakdar - Editor Prof. Mufit Selim Saruhan (dal 2019)
(www.islamiarastirmalar.com).
- Membro del comitato editoriale-scientifico del giornale online Daily Muslim - Editor Dott. Karim C. Benvenuto (dal 2019)
(www.dailymuslim.it).
- Membro dell'Editorial Reviewer Board del Journal of Advanced Health Care (JAHC) - Official Journal of TSRM PSTRP - Direttore responsabile Prof. Franco Ascolese – Codice rivista CINECA E252817 (dal 2019)
(https://jahc.eu/about/editorial-board/).

Participation as referees of national and international research projects

- Membro del Comitato scientifico della "National Quranic Academy", Azad Kashmir, Pakistan.
- Membro del Comitato scientifico e Vice Presidente della "Halal and Shari'a Compliance Academy".
- Membro del Comitato scientifico della "European Federation for Freedom of Belief" (FOB).
- Membro del Comitato tecnico-sientifico del Centro Studi Tradizioni Nautiche su nomina del Presidente nazionale della Lega Navale Italiana - Ente Morale.
- Membro della "Union Européenne des Arabisants et Islamisants" (UEAI).
- Membro della "European Academy of Religion" (EuARe).
- Membro "Senior" dell'Istituto di Studi Penalistici "Alimena", Centro di ricerca interdipartimentale dell'Università della Calabria.
- Coordinatore scientifico (settore Diritti confessionali) nella rivista "Diritto e Religioni".
- Partecipazione alle attività del Gruppo di ricerca del Progetto europeo "CiSoTRa - Civil Society for social inclusion of unaccompanied minors in transition to adulthood", co-funded by the Erasmus+ Programme of the European Union - settore scientifico disciplinare IUS02, in qualità di responsabile del Legal Area Working Package 4 (National General Trainings), e POU Active Discussant al Working Package 5 (Face to Face) - con codice 592154-EPP-1-2017-1-SI-EPPKA3-IPI-SOC-IN e finanziato dall'EACEA (Agenzia esecutiva per l'istruzione, gli audiovisivi e la cultura) della Commissione Europea - Progetto in collaborazione con l'Università Telematica Pegaso - Centro EuroMediterraneo Lifelong Learning ed in partenariato con l'International School for Social and Business Studies (ISSBS Slovenia), Action Synergy Α.Ε. – Grecia, Istanbul Bilgi University (IBU Turchia) e l'Institut für sozialwissenschaftliche Beratung GmbH (ISOB Germania) – 2019 - 2020;
- Su richiesta diretta del Ministro MCMRE del Regno del Marocco ed in partenrship Con Bank al Maghrib, collaborazione al Gruppo di ricerca sul tema "Crise économique et protection des droits des MRE"; partecipazione alla Journée Nationale des marocains résidant à l'étranger, quale relatore con un intervento su "Protection des droits des MRE en temps de crise" - Centre de Formation de Bank al Maghrib, Rabat, 10 agosto 2010;
- Partecipazione alle attività del Gruppo di ricerca sul tema "Diritto penale e fattore religioso" dell'Istituto di Studi Penalistici "Alimena" (ISPA) – Centro di Ricerca Interdipartimentale dell'Università della Calabria, dal 2020;
- Direttore del Gruppo di Studio e Ricerca dell'International Think Tank "Euro Asia Financial Policy Forum (EAFPF)", dal 19/10/2018;
- Esperto senior in promozione del turismo Muslim firnedly – Halal nel comitato di esperti del progetto "Destinazione Puglia" – POR Puglia 2000-2006 Ob. 1 – FESR Misura 4.15 - Macroazione 4 "Turismo Halal – Puglia Muslim Friendly" in sinergia tra la Sezione Turismo della Regione Puglia e il Teatro Pubblico Pugliese – Consorzio Regionale per le Arti e la Cultura;
- Responsabile scientifico nel Gruppo di ricerca WP 4 (settore scientifico disciplinare IUS/02) del Progetto europeo "CiSoTRa - Civil Society for social inclusion of unaccompanied minors in transition to adulthood", con codice 592154-EPP-1-2017-1-SI-EPPKA3-IPI-SOC-IN, co-funded by the Erasmus+ Programme of the European Union e finanziato dall'EACEA (Agenzia esecutiva per l'istruzione, gli audiovisivi e la cultura) della Commissione Europea - Progetto in collaborazione con l'Università Telematica Pegaso - Centro EuroMediterraneo Lifelong Learning ed in partenariato con l'International School for Social and Business Studies (ISSBS Slovenia), Action Synergy Α.Ε. – Grecia, Istanbul Bilgi University (IBU Turchia) e l'Institut für sozialwissenschaftliche Beratung GmbH (ISOB Germania), 2019 - 2020;
- Steering Committee del Modulo Jean Monnet "The Future of Criminal Cooperation in Europe: issue and perspective - Fu.C.C.E." (Project Number: 565645-EPP- 1-2015-IT-EPPJMO-MODULE) ammesso a finanziamento dall'Education, Audiovisual and Cultural Executive Agency (EACEA) della Commissione europea a seguito di selezione di esperti, co-finanziato con decisione n. 2015-2340/001-001, all'interno della "Azione Jean Monnet, Programma Erasmus+", per progetti di eccellenza nell'insegnamento e nella ricerca su temi relativi al processo di integrazione europea, dal 30/07/2015 al 30/08/2018;
- Progetto europeo "Raising Awareness and Staff MObility on violent RADdicalisation in Prison and Probation Services (RASMoRad)", co-funded by the Criminal Justice Programme of the European Union, (European Commission- DG Justice and Consumers- Directorate A-Civil Justice- Justice Programme (2014-2020)- Project ID: 723115 – Call: JUST-2015-JCOO-AG-1), in collaborazione con il Ministero della Giustizia - Dipartimento Amministrazione Penitenziaria DAP (Applicant), partner scientifico di progetto nella formazione e aggiornamento del personale del Corpo di Polizia e del personale dell'Amministrazione penitenziaria, 2018/2019;
- Progetto europeo "Transfer Radicalisation Approaches in Training (TRA in Training)", supported by The Criminal Justice Programme of the European Union, in collaborazione con il Ministero della Giustizia - Dipartimento Amministrazione Penitenziaria DAP (Applicant/Coordinator), partner scientifico di progetto nella formazione e aggiornamento del personale del Corpo di Polizia e del personale dell'Amministrazione penitenziaria (TRAIN TRAINING GRANT AGREEMENT 763745 – m¬_dgGDAP.16.11.2018.0359658.U; m-_dgGDAP.26.11.2018.0369599.U) - Docente Unità UDO n. 18, 2018/2019;
- PON Sicurezza 2008 in collaborazione con il Ministero della Giustizia - Dipartimento Amministrazione Penitenziaria - Provveditorato Regionale Amministrazione Penitenziaria per la Campania, partner scientifico di progetto di mediazione culturale denominato "Islam", 2008;
- Progetto europeo "Building Experiences For Opposing violent Radicalisation in Europe (B.E.F.O.R.E.)" in collaborazione con il Ministero della Giustizia - Dipartimento dell'Amministrazione Penitenziaria - Provvedimento Regionale Amministrazione Penitenziaria per la Campania, partner scientifico di progetto denominato "Radicalizzazione violenta e reclutamento terroristico", 2009/2010;
- Componente del Collegio Docenti al Dottorato di ricerca in "Law, Education and Development" della Pegaso International - Higher Education Institution di Malta, dal 2017;
- Componente del Consiglio del Corso di Studi di Giurisprudenza (LM-G01) dell'Università telematica Pegaso dal 25/05/2019;
- Partecipazione alle attività dell'Istituto di Studi Penalistici "Alimena" (ISPA) – Centro di Ricerca Interdipartimentale dell'Università della Calabria, dal 2020;
- Affidamento da parte del Consiglio Direttivo dell'Istituto Italiano per gli Studi Filosofici di una ricerca sul tema "La competenza per i crimini internazionali nel sistema penale marocchino", 2006;
- Affidamento dello studio di "Diritto privato comparato" e "Diritto ecclesiastico" alla Scuola di Specializzazione per le Professioni Legali della Università telematica Pegaso, a.a. 2019/2020, 2020/2021;


Areas and research fields

Area: Diritto Linea: Diritto Privato Comparato (IUS 02)

Research skills
Islamic Law

Description:

Comparative Law - Shari�a - Islamic Law - Law of Islamic countries

Keywords:

Comparative law, Criminal law, Judicial law

ATECO code:

[85.42] - istruzione universitaria e post-universitaria; accademie e conservatori
Funds
Destinazione Puglia" – POR Puglia 2000-2006 Ob. 1 – FESR Misura 4.15 - Macroazione 4 "Turismo Halal – Puglia Muslim Friendly" in sinergia tra la Sezione Turismo della Regione Puglia e il Teatro Pubblico Pugliese – Consorzio Regionale Arti e Cultura

Funding body:

Regione Puglia

Type:

POR FSE (2007-2013)

Role in the project:

PT

Starting date:

Year: 2020 Length in months: 3
Progetto europeo "Transfer Radicalisation Approaches in Training (TRA in Training)", supported by The Criminal Justice Programme of the European Union, in collaborazione con il Ministero della Giustizia - Dipartimento Amministrazione Penitenziaria DAP (Ap

Funding body:

Criminal Justice Programme of the European Union, (European Commission- DG Justice and Consumers- Directorate A-Civil Justice- Justice Programme (2014-2020)

Type:

ISEC - Prevention of and Fight against Crime

Role in the project:

PT

Starting date:

Year: 2018 Length in months: 24
Raising Awareness and Staff MObility on violent RADdicalisation in Prison and Probation Services

Funding body:

Criminal Justice Programme of the European Union, (European Commission- DG Justice and Consumers- Directorate A-Civil Justice- Justice Programme (2014-2020)

Type:

Programmi DG Justice

Role in the project:

PT

Starting date:

Year: 2018 Length in months: 24
Responsabile scientifico nel Gruppo di ricerca WP 4 (settore scientifico disciplinare IUS/02) del Progetto europeo "CiSoTRa - Civil Society for social inclusion of unaccompanied minors in transition to adulthood", con codice 592154-EPP-1-2017-1-SI-EPPKA3-

Funding body:

Agenzia esecutiva per l'istruzione, gli audiovisivi e la cultura della Commissione Europea

Type:

Erasmus+

Role in the project:

PT

Starting date:

Year: 2019 Length in months: 24
Steering Committee del Modulo Jean Monnet "The Future of Criminal Cooperation in Europe: issue and perspective - Fu.C.C.E." (Project Number: 565645-EPP- 1-2015-IT-EPPJMO-MODULE) ammesso a finanziamento dall'Education, Audiovisual and Cultural Executive Ag

Funding body:

Education Audiovisual and Cultural Executive Agency (EACEA) della Commissione europea

Type:

Erasmus+

Role in the project:

PT

Starting date:

Year: 2015 Length in months: 36