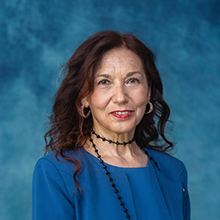 MITRANO Filomena
Position

Researcher
E-mail
Scientific sector (SSD)

LINGUE E LETTERATURE ANGLO-AMERICANE [L-LIN/11]
Website

www.unive.it/persone/filomena.mitrano (personal record)

Office
Activities and research skills
General information
Scientific sector (SSD)

LINGUE E LETTERATURE ANGLO-AMERICANE [L-LIN/11]
Geographic areas in which the research experience mainly applies

Internazionale: America Settentrionale,Europa
Known languages

Inglese (scritto: avanzato parlato: avanzato)
Italiano (scritto: avanzato parlato: avanzato)
Tedesco (scritto: base parlato: base)

Participation in editorial boards of scientific journals/book series

Membro, comitato scientifico, Materiali IT, collana diretta da Elettra Stimilli e Dario Gentili, Edizioni Quodlibet, Macerata, dal 2017 ad oggi;

Membro, Editorial Board, RSA Journal: Rivista di Studi Americani , 2015-2017.

Participation as referees of national and international research projects

Sono stata referee anonima per la rivista statunitense College Literature, West Chester University, PA (1991- 2012) , e per le riviste italiane Elephant and Castle, Università di Bologna (settembre 2018) e Comparative Studies in Modernism (COSMO), Università di Torino (giugno 2015). Sono stata reviewer anonima per la casa editrice La Scuola di Pitagora Press, collana "Le Balene: Studi di letteratura americana e comparata", collana diretta da Giorgio Mariani, Donatella Izzo, Mauro Pala (maggio 2018).


Sono fondatrice, dal 2015, di Discourses of Modernity Seminar, membro fondatore della rete internazionale di ricerca ITN (Italian Thought Network).

Ho beneficiato inoltre di finanziamenti internazionali:

Loyola University Chicago, John Felice Rome Center, € 640 per spese di viaggio, alloggio, e registration, British Modernist Studies Association Conference, BAMS 2019: "Troublesome Modernisms", 20-22 giugno 2019, Kings College, Londra, per poter presentare un paper su "Re-reading Poggioli," parte della ricerca in corso finalizzata alla pubblicazione del volume "The Life of Critique" .

MSA (Modernist Studies Association), $ 900 per spese di viaggio, Modernist Studies Association Conference, MSA 18: "Culture Industries", 17-20 novembre 2016, Westin Hotel, Pasadena, California, per poter presentare il paper su "From the Culture Industry to Italian Theory (The Search for an Affirmative Critical Thought), parte della ricerca in corso finalizzata alla pubblicazione del volume "The Life of Critique" .

T. S. Eliot International Summer School, borsa "Ionian Splendour and Gold", £ 500, per la partecipazione al seminario su "T. S. Eliot e Wallace Stevens", 11-19 luglio 2015, Institute of English Studies, Room 239, Senate House, Malet Street, London, WC1E 7HU, UK, parte di una ricerca su Eliot diventata poi "The Mirror of Alienation: T. S. Eliot and the Other Modernity", in Harbors: Flows and Migrations of People, Cultures and Ideas. The U. S. A. in/and the World, a cura di Vincenzo Bavaro, Gianna Fusco, Serena Fusco e Donatella Izzo , Newcastle upon Tyne, Cambridge Scholars Publishing, 2017, 237-254.

Five College Women's Studies Research Center, Mount Holyoke College,79 & 83 College Street, South Hadley, MA 01075, titolo di Research Associate, 1 gennaio -16 maggio 2010, con ufficio autonomo e partecipazione a rete di ricerca internazionale su Women's Studies con il progetto "Susan Sontag and the Public Woman of Letters", poi diventato In the Archive of Longing: Susan Sontag's Critical Modernism, Edinburgh, Edinburgh University Press, 2016; paperback 2017.

The School of Criticism and Theory, Cornell University, Ithaca, NY, borsa Full Tuition Grant, per partecipare con un progetto su "Politica e psicoanalisi" al seminario tenuto da Jacqueline Rose "Psychoanalysis and Modern Culture", 16 giugno-24 luglio 1997. La ricerca è poi diventata il paper "Antonio Gramsci, the National Tie, and Melanie Klein" presentato al primo convegno della Gramsci International Society, Istituto per gli Studi Filosofici, Palazzo Serra di Cassano, Napoli, 16-18 ottobre 1997 e in seguito "Negativity and Political Language", un capitolo del mio libro Language and Public Culture (2009).

Rutgers University, Department of English, New Brunswick, New Jersey, USA, Borsa di studio Walter C. Russell Fellowship for International Graduate Students, dall' a. a. 1986 all' a. a. 1988.


Areas and research fields

Area: Filosofia e Scienze Sociali
Area: Letteratura Linea: Poesia
Area: Lingue e letterature americane Linea: Studi americani
Area: Lingue e letterature americane
Area: Studi culturali Linea: Studi culturali

Research skills
Modernismo estetico

Description:

Modernism

Keywords:

Humanities, Social sciences

ATECO code:

[85] - istruzione
Theory

Description:

Critical Theory/Theory

Keywords:

Humanities, Social sciences

ATECO code:

[85] - istruzione
Metodologie critiche/Critica letteraria

Description:

Critical Methodologies

Keywords:

Humanities

ATECO code:

[85] - istruzione
Poststrutturalismo

Description:

Poststructuralist thought

Keywords:

Humanities, Social sciences

ATECO code:

[85] - istruzione
Grandi scrittrici e pensatrici del Novecento

Description:

Great Women Writers and Intellectuals

Keywords:

Humanities

ATECO code:

[85] - istruzione
Gertrude Stein

Description:

Gertrude Stein

Keywords:

Humanities

ATECO code:

[85] - istruzione
Susan Sontag

Description:

Susan Sontag

Keywords:

Humanities, Social sciences

ATECO code:

[85] - istruzione
Hannah Arendt

Description:

Hannah Arendt

Keywords:

Humanities

ATECO code:

[85] - istruzione
Visuality (The New York School, especially Rauschenberg)

Description:

Visuality (The New York School, especially Rauschenberg)

Keywords:

Humanities

ATECO code:

[85] - istruzione
Language and public culture

Description:

Language and public culture

Keywords:

Humanities, Social sciences

ATECO code:

[85] - istruzione
Psychoanalytic approaches

Description:

Psychoanalytic approaches

Keywords:

Humanities

ATECO code:

[85] - istruzione
Completed and pending researches
Eliot and work

SSD:

L-LIN/11
English for American Studies: The Delectable Speaker

SSD:

L-LIN/11
The Debate on Postcritique

SSD:

L-LIN/11
The Life of Critique (Foucault, Benjamin, Butler, Jameson, Dimock, Esposito, Saussure, Eliot, Joyce/Lispector/Cixous, Lacan)

SSD:

L-LIN/11
Funds
English for American Studies: The Delectable Speaker

Funding body:

Ca' Foscari University of Venice -- Fondi di Primo Insediamento

Type:

Altri finanziamenti per attività di didattica/formazione

Role in the project:

LD

Sito di progetto:

Progetto si è tradotto in un manuale critico per gli studenti del primo anno di Lingua Anglo-Americana

Starting date:

Year: 202 Length in months: 24