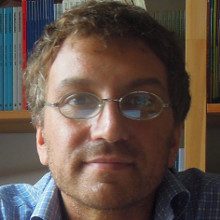 Francesco VACCHIANO
Position

Associate Professor
Roles

Department's Delegate for External Comunication

Telephone

041 234 9851
E-mail
Scientific sector (SSD)

DISCIPLINE DEMOETNOANTROPOLOGICHE [M-DEA/01]
Website

www.unive.it/people/francesco.vacchiano (personal record)

Office
Francesco Vacchiano is an associate professor of anthropology at the University Ca' Foscari of Venice, teaching Anthropology of Health, African Languages and Cultures, Methodology of Anthropological Research and Environmental Anthropology. He has also taught in undergraduate and postgraduate programmes in Italy, Spain, Portugal and Switzerland.
Trained as clinical psychologist and anthropologist (with a doctorate from the University of Turin), he combined his clinical and research interests in the field of ethnopsychiatry at the Frantz Fanon Center in Turin from 1997 to 2010 and at the Centro de Etnopsicología Clínica of Lisbon from 2014 to 2019.
His research interests cover contemporary migrations; borders, bureaucracies and politics of citizenship; North African society and institutions; traditional medicine in Mozambique. He is honorary adjunct researcher of the Institute of Social Sciences of the University of Lisbon.
He commonly realises outreach activities consisting mainly of training, psychological supervision and consultancy directed to social and medical professionals and to national and international bodies that intervene in migrant's reception and inclusion.
Last update: 05/12/2022
The information above have been uploaded on Ca' Foscari website direclty by the user this webpage refers to. The correctness and truthfulness of the published information are responsibilities of the relevant user.