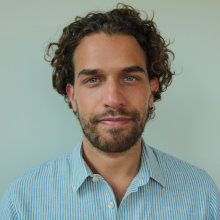 BAZURLI Raffaele
Position

Research Grant Holder
E-mail
Website

www.unive.it/persone/raffaele.bazurli (personal record)

Raffaele Bazurli is a postdoctoral researcher at Ca' Foscari University of Venice and at Queen Mary, University of London. He is also a member of the Centre on Social Movement Studies (COSMOS) at Scuola Normale Superiore in Florence and of The City Centre at Queen Mary, University of London.
His research agenda focuses on migration governance, urban politics, and social movements. He is especially interested in understanding how local officials and grassroots activists interact to shape the multi-level governance of immigration, possibly breeding policy conflicts and subverting unwanted national policies. On this basis, he aims to pose broader questions on the role of cities as key, innovative players in contemporary global governance, whose policy experiments may crucially contribute to a just, democratic, and sustainable future.
His research appears or is forthcoming in political science, sociology, and geography journals, including South European Society and Politics; the International Political Science Review; the Urban Affairs Review; Territory, Politics, Governance; PS: Political Science and Politics; Politiche Sociali / Social Policies; and in various edited volumes. He has written policy reports and opinion pieces for assorted outlets and he has been involved in research-policy partnerships, such as the SIforREF project. The British Academy, the European Union, the Government of Italy, and the Research Council of Norway have all supported his research.
He earned a Ph.D. in Political Science and Sociology (2020) from Scuola Normale Superiore in Florence, with a thesis on migration governance and social movements in Milan and Barcelona. I have been a research fellow at the Centre for Research on Extremism (C-REX) of the University of Oslo (2021). I have also held visiting research positions at the Institute for Government and Public Policy of the Autonomous University of Barcelona (2018) and the Urban School of Sciences Po-Paris (2018-19).
More information at: https://raffaelebazurli.com/
Last update: 30/03/2022
The information above have been uploaded on Ca' Foscari website direclty by the user this webpage refers to. The correctness and truthfulness of the published information are responsibilities of the relevant user.