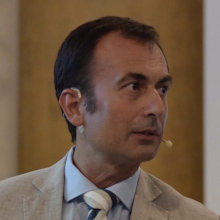 Leggi l'intervista - "Primi piani"
| | |
| --- | --- |
| 1985 | Maturità classica, Liceo "Luciano Manara" Roma |
| 1992 | Laurea in Fisica, Università "Sapienza" Roma |
| 1994 | MPhil in Condensed Matter Theory, SISSA, Trieste |
| 1996 | PhD in Condensed Matter Theory, SISSA, Trieste |
| 1997 | Postdoc Dep.Physics/School of Biological Science, University of Manchester UK |
| 1998 | Postdoc Theory of Condensed Matter, Cavendish Lab, University of Cambridge UK |
| 1999-2007 | Ricercatore INFM Centre for Statistical Mechanics Sapienza |
| 2007-2012 | Primo Ricercatore Istituto Sistemi Complessi, CNR Roma |
| 2012-2014 | Professore Associato IMT Alti Studi Lucca |
| 2014-2020 | Professore Ordinario IMT Alti Studi Lucca |
| 2020- | Professore Ordinario Ca'Foscari |
From 2018 to 2021 I have been president of the Society of Complex Systems
In 2019 with other colleagues we founded the Italian Society of Statistical Physics, a discipline in which I study applications to Network theory. Indeed, complex networks can give a quantitative description of many systems in which so far such a description has been impossible and in particular, they can help to manage large amounts of data. Thanks to these characteristics, although their development is a part of contemporary statistical physics, their applications are often interdisciplinary. These studies are part of a larger discipline known as complex systems theory. On these studies, I have published about 200 articles in international journals and three books (as of 2020).
In 2020 I was elected a member of the American Physical Society (APS Fellowship) "For major contributions to understanding the disorder effects in self-similar phenomena, particularly in real scale-free networks and in theoretical models"
In 2020 I became member of Academia Europaea.
More information is available on my personal website http://www.guidocaldarelli.com
Last update: 02/02/2022
The information above have been uploaded on Ca' Foscari website direclty by the user this webpage refers to. The correctness and truthfulness of the published information are responsibilities of the relevant user.