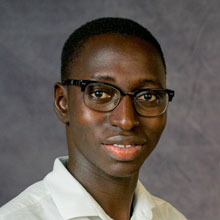 Current Position : 2020 - Present PhD Candidate in Economics, Ca 'Foscari University of Venice
Research Interest: Applied Micro-Econometrics, Micro effects of Macroprudential Policies, Household Economics, Household Finance, Economic Evaluation.
Previous Education:
2017 - 2019 Master of Science in Economics (Magec), University of Verona
2012 - 2015 Bachelor of Science in Economics and Finance, The University of The Gambia
Training / Conference Participation:
2016, Regional Workshop on Foundation of Economics Statistics, International Monetary Fund and Afritac West 2, Banjul, The Gambia
May 2019, Economic Measurement Conference, UK Office of National Statistics (ONS) and King's College London.
December 2019, Systems of National Account 2008, International Monetary Fund (IMF), Accra, Ghana
January 2020, Rollout of Country Resilience and Fragility Assessment, African Development Bank, Lome, Togo
Work Experience:
2015 - 2016, Teaching Assistance, The University of The Gambia
2016 - 2020, Statistician - National Accounts, The Gambia Bureau of Statistics (GBoS)
Teaching Activities: TA - Statistics, Bachelor in Economics and Trade, Ca 'Foscari
Awards:
2020 IAOS Young Statistician Prize
International Association of Official Statistics
Last update: 21/09/2021
The information above have been uploaded on Ca' Foscari website direclty by the user this webpage refers to. The correctness and truthfulness of the published information are responsibilities of the relevant user.