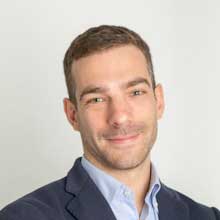 Francesco SCARPA
Position

Researcher
Telephone

041 234 8734
E-mail
Scientific sector (SSD)

ECONOMIA AZIENDALE [SECS-P/07]
Website

www.unive.it/persone/francesco.scarpa (personal record)

Office
Francesco Scarpa is currently an Assistant Professor at the Department of Management of Ca' Foscari University.
He was Postdoctoral Researcher and Adjunct Professor at Ca' Foscari University.
Author of publications in academic international journals, he has participated as speaker at international and national congresses.
His main research interests are: corporate sustainability; non-financial reporting; corporate tax planning and social responsibility; ESG rating.
He granted his PhD in 'Business & Law' at the University of Bergamo. He obtainted his Bachelor Degree in 'Business Administration' and his Master degree in 'Accounting and Finance' at Ca' Foscari University.
Last update: 31/07/2023
The information above have been uploaded on Ca' Foscari website direclty by the user this webpage refers to. The correctness and truthfulness of the published information are responsibilities of the relevant user.