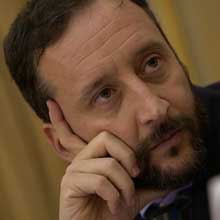 PETTINÀ Vanni
Position

Associate Professor
E-mail
Scientific sector (SSD)

STORIA E ISTITUZIONI DELLE AMERICHE [SPS/05]
Website

www.unive.it/persone/vanni.pettina (personal record)

I hold a Ph.D in Contemporary History from the University Complutense of Madrid/Consejo Superior de Investigaciones Cinetíficas. My dissertation focused on the history of Cuban-US relations between 1933 and 1959. During and upon finishing my Ph.D. I held accademic positions in the UK (LSE-Visiting Scholar and Teacher), the US (Kluge Fellow of the Library of Congress and O'Gorman Fellow at Columbia University) and Mexico, where I lived for ten years, teaching at el Colegio de México and, most importantly, learning quite a lot from such an important experience. My accademic interests focus on the International History of Latin America, inter-American relations and the global History of the Cold War. I wrote A Compact History of Latin America's Cold War (University of North Carolina Press) and co-edited Latin America and the Global Cold War. I was recipient of the UNC-Duke Consortium in Latin American and Caribbean Studies Latin American in Translation grant.
Last update: 03/11/2022
The information above have been uploaded on Ca' Foscari website direclty by the user this webpage refers to. The correctness and truthfulness of the published information are responsibilities of the relevant user.