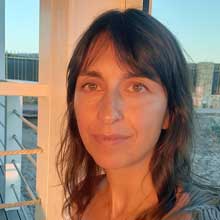 RAFFAETA' Roberta
Position

Associate Professor
Telephone

041 234 6240
E-mail
Scientific sector (SSD)

DISCIPLINE DEMOETNOANTROPOLOGICHE [M-DEA/01]
Website

www.unive.it/persone/roberta.raffaeta (personal record)

Office
Leggi l'intervista - "Primi piani"
Roberta Raffaetà is an anthropologist and professor of socio-cultural anthropology.
Her research stays at the intersection of medical anthropology, environmental anthropology and science & technology studies. She studies how to live well and caring for each other in an entangled and more-than-human planet. In last years, she has explored how biocomputational scientists produce knowledge about microbes and why this matters ('Antropologia dei microbi' CISU 2020 – eng translation by Routledge, 2022)
She received a PhD in Social Sciences at the University of Lausanne in 2008 as member of the Laboratorie d'Anthropologie Culturelle et Sociales. She has been granted a Marie Curie (Trento University and Monash, 2010-2013) and a Fulbright (UCLA, 2018) fellowship and she has worked in several universities in Italy (Milano-Bicocca, Bolzano, Bologna, Trento, Verona) and abroad (Monash Melbourne, Lausanne).
Roberta is the Principal Investigator of the ERC Starting Grant Project HealthXCross, a multi-sited, comparative ethnographic study of how technoscience is reconfiguring practices and ideas of health by aggregating microbial data across time, space and species.
Currently, Roberta welcomes supervision of thesis in these fields:
-the social life of chestnut forests
-common goods in the Alps
Last update: 01/10/2022
The information above have been uploaded on Ca' Foscari website direclty by the user this webpage refers to. The correctness and truthfulness of the published information are responsibilities of the relevant user.