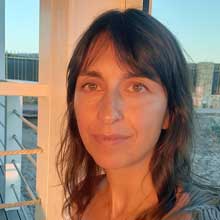 Roberta RAFFAETA'
Position

Associate Professor
Telephone

041 234 6240
E-mail
Scientific sector (SSD)

DISCIPLINE DEMOETNOANTROPOLOGICHE [M-DEA/01]
Website

www.unive.it/people/roberta.raffaeta (personal record)

Office
Leggi l'intervista - "Primi piani"
Roberta Raffaetà is professor of socio-cultural anthropology.
She studies how science is undergoing transformations in the midst of the ecological crisis and technological revolutions. Her work lies at the intersection of medical anthropology, environmental anthropology and science and technology studies. She is Associate Professor of Socio-cultural Anthropology at the Department of Philosophy and Cultural Heritage, Ca' Foscari University of Venice, and Deputy Director of NICHE (The New Institute: The Centre for Environmental Humanities). Since obtaining a PhD at the University of Lausanne (Laboratoire d'anthropologie culturelle et sociale, Faculté des Sciences Sociales et Politiques), she has worked at various universities in Italy (Milano-Bicocca, Bologna, Verona, Trento, Bolzano) and abroad (UCLA, UCSD, Monash Melbourne, Lausanne). Her research has been funded by the European Commission (Marie Curie and ERC), Fulbright (Schuman), The Italian Ministry of Research (FARE, PRIN, PNRA), Wenner Gren and Parco Adamello Brenta.
Currently, Roberta welcomes supervision of thesis in these fields:
-chestnut forests and common goods in the Alps
-hunting
Last update: 01/12/2023
The information above have been uploaded on Ca' Foscari website direclty by the user this webpage refers to. The correctness and truthfulness of the published information are responsibilities of the relevant user.