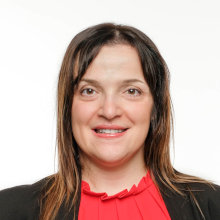 Cristina Gianfelici is tenure-track assistant professor at Ca' Foscari University of Venice, Department of Management.
She obtained her Ph.D. in Economics and Management of Public Sector Organizations in 2007, at the University of Salerno, Department of Business Studies and Research, and her Degree summa cum laude in Economics and Commerce at the University of Bologna, Forlì Campus, in 2003.
In 2006, she obtained the qualification to act as Chartered Accountant and Auditor. She is registered at the Order of Chartered Accountants in Forlì-Cesena - Special List, at the Register of Auditors held by the Ministry of Economy and Finance and in the List of Auditors of Local Authorities held by the Ministry of the Interior.
Since the A.Y. 2006/2007 until the A.Y. 2020/2021, she had been adjunct professor at the University of Bologna, holding numerous courses, in Italian and English, in first cycle and second cycle degree programs, at Bologna, Forlì, Rimini and Ravenna Campuses, particularly regarding the following subjects: Business Science, Financial Accounting, International Accounting Standards, Managerial Accounting, Performance Measurement Systems, Planning and Control Systems, Cost Analysis, Business Combinations.
Since the A.Y. 2006/2007, she has been lecturer at the Bologna Business School, Master in Finance, Control and Auditing, assuming the responsibility for the course in Financial Reporting since the A.Y. 2012/2013.
From January 2014 until July 2021, she had acted as professional, carrying out consultancy and training activities for professional firms, enterprises, not for profit and public sector organizations, particularly regarding financial accounting, planning and control systems, financial and non-financial reporting, corporate social responsibility, business evaluation, management of local public services. She had acted as member of the board of directors in some companies providing local public services and as statutory auditor or auditor in companies and public sector organizations as well.
Author of numerous scientific and professional publications, she was speaker at conferences, seminars, and workshops.
In the A.Y. 2001/2002, she received the Rotary Award for obtaining her Degree in Economics at the University of Bologna with the best curriculum. For her Ph.D. thesis, she received two specific awards: the 2009 "Enrico Gualandi" Award, promoted by Legautonomie (Association of Local Authorities), the Municipality of Imola, SVIMAP (University Network for the Development of Management in Public Sector Organizations) and ANCREL (National Association of Auditors for Local Authorities) and the 2008 "Giorgio Leonardi" Honor Diploma, promoted by AISRe (the Italian section of the European Regional Science Association).
Since 2021, she is ordinary member of AIDEA and SIDREA. Since 2017, she is ordinary member of GBS - Study Group on Social Report.
Last update: 05/04/2022
The information above have been uploaded on Ca' Foscari website direclty by the user this webpage refers to. The correctness and truthfulness of the published information are responsibilities of the relevant user.