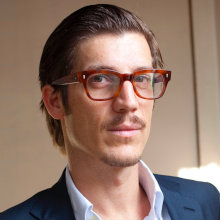 Giuseppe BIANCO
Position

Researcher
Telephone

041 234 7291
E-mail
Scientific sector (SSD)

STORIA DELLA FILOSOFIA [M-FIL/06]
Website

www.unive.it/persone/giuseppe.bianco (personal record)

Office
Leggi l'intervista - "Primi piani"
I received my first Master's degree in philosophy from the University of Trieste. My first mentor was Pier Aldo Rovatti. My dissertation on Deleuze led me to Paris, where, at Paris-8 University, I completed a second Master's, confronting Deleuze's ontology with Merleau-Ponty's. My supervisor, Alain Badiou, introduced me to the research unit he had just created at the Ecole normale supérieure, the Centre international pour l'étude de la philosophie française (CIEPFC); the Centre aimed at both studying and reviving the French structuralist and post-structuralist program. From that moment on, I started collaborating with him and with Frédéric Worms, who succeeded him as director of the center and became my Ph.D. supervisor at Lille-3 University. The topic of my dissertation, the reception of Bergson's philosophy in France during the 20th century (La réaction au bergsonisme: transformations de la philosophie française de Politzer à Deleuze), allowed me to explore contemporary French philosophy and its relation with human and social sciences, literature, society and the other European philosophical traditions. During the following years, I organized several events at CIEPFC on different aspects of French philosophy, where I led the recovery of underrated figures such as Georges Politzer, Jean Wahl, and Jean Hyppolite.
This interest for the lesser-known aspects of French philosophy pushed me to make my first steps in the archives (while being an associated researcher at the Bibliothèque nationale de France, I worked in Hyppolite's and Canguilhem's archives), developing a more historical approach to the production of philosophy itself. In reflecting on epistemological and historiographical problems concerning the practice of history of philosophy, I led, at the Ecole Normale, a series of seminars on these questions ("Archives of French philosophy", "What does it mean to do history of philosophy?"). During the last two years of my Ph.D. I also worked as Researcher at the Jan Van Eyck Academie (Maastricht).
This first phase of my academic career, including my Ph.D. at Lille (which I defended in 2009) and the collaboration and post-doc at the Ecole normale (2009-2011), allowed me to develop research skills, team-working and research-management skills (as P.I. of a collective research project on Hyppolite, funded by the Singer-Polignac Trust, which ended in the publication of two edited books) and networking skills (I was involved in European and extra-European networks such as the OFFRES France-Eastern Europe network, the Toulouse University Erasmus Mundus network, and the International network for French philosophy, based at the University of Warwick).
The further step of my career led me to the University of Warwick (U.K.), where, from 2011 to 2014 I contributed to a project led by Miguel de Beistegui, "Issues in Biopolitics and Bioethics," which implied the organization of three international conferences and the publication of a book (The Care of Life). Through Toulouse's Erasmus Mundus network, I also lectured in Brazil in 2013 and 2014. During this phase, I published several books: on Georges Politzer, Jean Hyppolite, Alain Badiou, and on philosophy and human sciences in post-war France. In 2015 came out my first authored book Après Bergson, which received extremely positive reviews in French and international journals. During the academic year (2014-15), I was invited to join, as a Fellow, the Paris Institute for Advanced Studies, where I developed a research project on "Social and vital norms in Georges Canguilhem," a figure that has been at the center of my research ever since. I organized an international conference and I edited a special issue of the Revue philosophique (2020).
In 2014-15 I worked as a research assistant at the University of Lyon 3, on a project directed by professor Jean-Philippe Pierron on "Values of patient-centered care" (in 2018 I would publish an essay on this topic in a volume that it is the outcome of the project Les valeurs du soin). I started as well working on essays about 19th-century French vitalist spiritualism and German Lebensphilosophie and their relation with medicine and biology; on the other hand I was invited as a researcher at New York University (Remarque Institute) and the University of Prague et at CEFRES, a CRNS research unit. I carried out further archival research at the Rockefeller Archive Center, at Columbia University, and at the Prague Institute of Philosophy.
While teaching as an adjunct at Sorbonne University, I have been a central participant in a PUF-funded project to join together American-style intellectual history and French sociologie des idées (PI. Stefanos Geroulanos and Gisèle Sapiro). More importantly, I have been funded by the University of Sao Paulo and by the University of Brussels (PHI Center) to develop research on the genesis of the philosophy of Gilles Deleuze. I am currently writing the first volume composing this research, Genesis of a Creator of Concepts. The materials include a vast amount of manuscripts that I have gathered over the years, the overwhelming majority of which have not been studied. This book sheds a new light on Deleuze's philosophy and tries to pose questions that are crucial for the practice of philosophy today, making possible a dialogue between different traditions. It joins my different historical, sociological, and philosophical skills.
In 2021 I was the recepient of the Marie Skłodowska-Curie Individual grant for my project INTERPHIL, "The international congresses and the transnational shaping of philosophy (1900-1948) Spaces – Struggles – Identity – Knowledge." The project analyses the construction of philosophy's disciplinary identity by studying the first ten International Congresses in Philosophy (1900-1948), relating them to the emergence in Europe of a new academic space that aimed at unity across different schools of thought. The inquiry adopts an inter-disciplinary and multi-scalar approach in order to explain the constitution of a transnational philosophical space, the formation of philosophical ideas of Europe and the participation of philosophers in international institutions such as the League of Nations. The project is based at Ca' Foscari's Department of Philosophy and Cultural Heritage, under the supervision of Pietro Daniel Omodeo, and at Université du Québec à Montréal (UQAM), under the supervision of Yves Gingras. It will start in january 2023.
Finally I am collaborating with Gertrudis Van de Vijver's (Ghent University) and Charles T. Wolfe's (Université de Toulouse 2) projects on the relation between philosophy and the life-sciences (both funded by FWO- Flanders Research Foundation): Vitalism. A counter-history of biology (2019-2022) and Human life? From philosophy of life to philosophical anthropology: a transnational and transdisciplinary inquiry (2022-225).
I am scientific consultant for the Jean Hyppolite Archives at the Ecole normale, editor of the republication and publication of some of Hyppolite's books and manuscripts, scienfic referee for the Journal of the History of Ideas, the Revue philosophique de la France et de l'étranger, Revue de métaphysique, Rivista di filosofia, Perspectives on Science, Sofia, for the publishing houses Springer and Rowman International and I served as a project evaluator for the Fondation Maison des sciences de l'homme (FMSH) and for the Polish National Science Centre (NCN).
I am Senior researcher (RTD-B) at Cà Foscari since March 2022.
Last update: 08/03/2022
The information above have been uploaded on Ca' Foscari website direclty by the user this webpage refers to. The correctness and truthfulness of the published information are responsibilities of the relevant user.