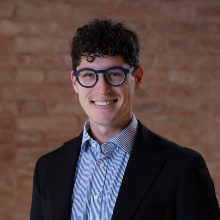 MATTIELLO Riccardo
Position

PhD Student
Website

www.unive.it/persone/riccardo.mattiello (personal record)

Office
Riccardo Mattiello, PhD candidate in Economics - Ca' Foscari University of Venice (2022 - present)
Research interests
Banking and Finance, Econometrics, Macroeconomics, Monetary Policy.
Education
Master's degree in Economics and Finance - University of Padova, 2019-2021
Curriculum Banking and Finance
Thesis title "The effects of the Covid-19 pandemic on households: Evidence on financial asset portfolio variations in the Netherlands"
Supervisors: Prof. Guglielmo Weber, Prof. Chiara dal Bianco
Summa cum laude
Bachelor's degree in Economics - University of Padova, 2016-2019
Thesis title "Open Innovation in banking: the model of Fintech District"
Previous research experience
Research bursary - ISRE Venezia, 2022
Research area: digitalization process and ecological transition of firms, the role of the banking sector and ESG risk management, the European framework for sustainable finance and circular economy, the Italian NRRP
Supervisor Prof. Francesco Zen
Last update: 12/03/2023
The information above have been uploaded on Ca' Foscari website direclty by the user this webpage refers to. The correctness and truthfulness of the published information are responsibilities of the relevant user.