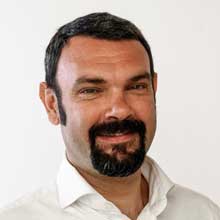 LA VOPA Adriano
Position

Adjunct Professor
E-mail
Website

www.unive.it/persone/adriano.lavopa (personal record)

Office
WORK EXPERIENCE
06/2018 – Present – Padova (IT): Entrepreneur
Innovation management consultancy
01/2019 – 08/2019 – Montebelluna (IT): Innovation Director
Innovation management consultancy
01/2019 – 03/2019 – Padova (IT): Contract Professor University of Padua
Technology entrepreneurship to PhD students
01/2016 – 07/2019 – Trieste (IT): Innoventually srls
Strategies setting for open innovation. Innovation management
03/2012 – 06/2018 – Eindhoven (NL): Royal Philips N.V.
Innovation management consulting. Opportunities Scouting (companies, technologies, business models). Emerging businesses intelligence and analysis. Innovation team leading for technology scouting. Open Innovation team management. Coaching. Transformation program management.
05/2010 – 02/2012 – Amstelveen (NL): LG Electronics
Regulations and product compliance for consumer electronics. Lobbyist at European Commission. Product compliance for childcare articles. Standardization and technical assessment
09/2008 – 04/2010 – IT and NL: my won business
Innovation, Open Innovation and Tech TRansfer consultant
08/2007 – 08/2008 – Padova (IT): Liquidmetal SAGA Italy srl
Business development. Technology marketing. Production lines management, organization and coordination. Technology transfer for innovative materials. Strategic consultancy. Manufacturing (plastic, metals, textiles).
2007 – 2008: Liquidmetal SAGA Italy s.r.l.
 2005 – 2007: Parco Scientifico Galileo
 2002 – 2005: Italian National Research Council

• Software for remote sensing • Project control software
• Nanotechnology
08/2005 – 06/2007 – Padova (IT)
Technology and innovation management. Strategic Innovation. Strategy consulting. Knowledge and technology transfer. Technology brokering.
07/2002 – 12/2004 – Bari (IT): internership and Contract researcher
Contract REsearcher for Earth Observation. Aerospace & Remote sensing.
EDUCATION
12/2018 – Copenhagen, Danimarca LEGO® SERIOUS PLAY® Method Facilitator – Rasmussen Consulting
2012 – 2018 – Eindhoven, Paesi Bassi Several Certificates at Philips Academy
- Design Thinking
- Lean Manufacturing Fundamentals ◦ TRIZ (certificato di livello 1)
- Change Management
- Strategic Alliances and Partnerships
2006 LATERAL THINKING – Promostudio
01/2005 – 12/2005 – Venezia, Italia INTERNATIONAL MASTER IN NANOTECHNOLOGIES – CI VEN - Coordinamento interuniversitario Veneto
08/1994 – 03/2004 – Bari, Italia - Physics Degree – Università degli Studi di Bari
PUBLICATIONS
Open Innovation Essentials for Small and Medium Enterprises
L'INNOVAZIONE CHE NON TI ASPETTI. Contesti e visioni per l'impresa
Technology transfer and knowledge transfer activities in Italy: a detailed analysis.
3D-Printing in Outer Space and International Intellectual Property Issues
Last update: 29/09/2022
The information above have been uploaded on Ca' Foscari website direclty by the user this webpage refers to. The correctness and truthfulness of the published information are responsibilities of the relevant user.