VESCOVO Pier Mario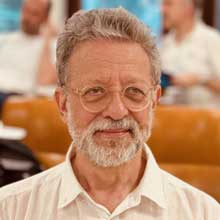 Piermario Vescovo – Curriculum vitae
Piermario Vescovo (1959) è professore ordinario di Discipline dello spettacolo presso l'Universitò di Venezia, dove prima è stato ricercatore e professore associato di Letteratura italiana (per cui pure ha conseguito l'idoneità di prima fascia).
Si è laureato in Lettere e ha proseguito gli studi a Venezia (Scuola di perfezionamento in filologia neolatina, Dottorato di ricerca in italianistica).
Ha insegnato come professore invitato presso varie Università straniere, tra cui Paris III, Paris-Sorbonne, Ecole Normale Supérieure (Paris-Lyon), Clermont-Ferrand.
La gran parte delle sue pubblicazioni riguarda la drammaturgia italiana, con particolare riferimento a Ruzante, Calmo, Andreini, i pregoldoniani, Goldoni, Gozzi, Gallina, Nievo e con numerose edizioni critiche di testi, tra cui "Rodiana" e "Travaglia" di Andrea Calmo, "Baruffe chiozzotte" e "L'Uomo prudente" di Carlo Goldoni, di Tutto il teatro di Giacinto Gallina, delle Commedie di Ippolito Nievo e di commedie inedite di Carlo Gozzi. Si è occupato di teoria e storia della teoria teatrale ("Entracte. Drammaturgia del tempo"; "A viva voce. Percorsi del genere drammatico", Venezia, Marsilio, 2007 e 2015), della memoria e dell'immaginazione del teatro e dei generi teatrali tra età tardoantica ed età moderna.

Tra i campi di interesse privilegiati anche quello del rapporto tra letteratura e arti visive (con qualche sconfinamento sul terreno della storia dell'arte, da Giorgione a Giandomenico Tiepolo).
È segretario scientifico dei Comitati delle Edizioni nazionali delle opere di Carlo Goldoni, Carlo Gozzi e Ippolito Nievo (Marsilio editori, Venezia), redattore delle riviste "Drammaturgia", "Studi Goldoniani", "Studi sul Boccaccio", "Quaderni Veneti". Co-dirige con Pasquale Sabbatino "Rivista di Letteratura Teatrale".
Ha fatto parte dei gruppi di ricerca interuniversitari italiani (PRIN -direttore dell'unità di ricerca di Venezia per il PRIN 2008) ha partecipato e partecipa a progetti dedicati alla fortuna europea del teatro italiano dal XVI al XVIII finanziati dai rispettivi ministeri dalle Università Paris-Sorbonne (CNRS), Barcelona-Autónoma, Santiago de Compostela.
Affianca all'attività di ricerca la pratica teatrale diretta, curando traduzioni e riduzioni per la scena e come regista. Ha frequentato nella seconda metà degli anni '70 la scuola del teatro a l'Avogaria di Venezia, allora diretta da Giovanni Poli. Ha collaborato con lo stesso teatro fino al 1983 (presso la stessa è tornato ad insegnare dal 2011). Ha messo in scena da allora come regista – da solo o in collaborazione – una trentina di spettacoli, con particolare riferimento alla tradizione teatrale veneta, coltivando tra gli interessi principali quello del teatro di figura. Ha realizzato spettacoli, tra gli altri, per il Mittelfest, la Biennale di Venezia, Napoli Teatro Festival, Estate Teatrale Veronese.
Piermario Vescovo (1959) is full professor of Performing Arts at "Ca' Foscari" University of Venice (In the national scientific qualification of 2012 he got also the qualification of full professor in Italian literature).
He graduated in Literature and continued his studies in Venice (School of improvement of "neolatine philology"; Phd in "Italianistica").
He lectured for many foreign universities, among which Paris III, Paris-Sorbonne, Paris-VIII, Ecole Normale Supérieure (Paris-Lyon), Clermont-Ferrand.
The majority of his publications and the many critical editions (such as: Rodiana e Travaglia by Andrea Calmo, Baruffe Chiozzotte and Uomo Prudente by Carlo Goldoni, Tutto il Teatro by Giacinto Gallina and Commedie by Ippolito Nievo.) concern Italian Drama, referring particularly to Ruzante, Calmo, Andreini, Goldoni, Gozzi, Gallina and Nievo.
Among the many interests, he privileges the relations between literature and visual arts (with some trespassing on history of art, from Giorgione to Giandomenico Tiepolo). Nowadays he deals with theory and history of the dramatic text. (Entracte. Drammaturgia del Tempo; A viva voce. Percorsi del genere drammatico, Venice, Marsilio 2007 and 2015).
He is scientific secretary of the committee of the National Edition of Carlo Goldoni, Carlo Gozzi and Ippolito Nievo (Marsilio editors, Venice), editor of "Drammaturgia", "Studi sul Boccaccio", "Studi Goldoniani", "Quaderni Veneti". He is co-director (along with Pasquale Sabbatino) of "Rivista di Letteratura Teatrale".

He was part of groups of Italian interuniversity research (PRIN). He participates to the project dedicated to the European prosperity of the Italian theater (from Fifteen hundred until Seventeen hundred) promoted by the Universities Paris IV-Sorbonne (CNRS) and Autónoma of Barcellona.
Ultima modifica: 10/11/2018
Le informazioni riportate sono state caricate sul sito dell'Università Ca' Foscari Venezia direttamente dall'utente a cui si riferisce la pagina. La correttezza e veridicità delle informazioni pubblicate sono di esclusiva responsabilità del singolo utente.