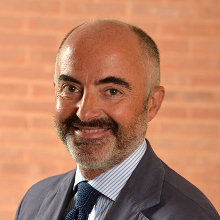 MICELLI Stefano
Position

Full Professor
Telephone

041 234 8729
E-mail
Fax

041 234 8701
Scientific sector (SSD)

ECONOMIA E GESTIONE DELLE IMPRESE [SECS-P/08]
Website

www.unive.it/persone/micelli (personal record)

Office

Department of Management
Website: https://www.unive.it/dep.management
Where: San Giobbe

Cattedra
Autorità di Sistema Portuale del Mare Adriatico Settentrionale
Office hours
Venezia - San Giobbe - Dipartimento di Management - studio n.045, piano terra, ala C1
Durante il II semestre dell'a.a. 2021/2022 il ricevimento si terrà in modalità telematica. Scrivere via email al docente per concordare un appuntamento, prestando cortese attenzione anche ad eventuali avvisi pubblicati al riguardo.
Venice – San Giobbe – Department of Management – C1 building – ground floor – room n.045.
During the 2nd semester of Academic Year 2021/2022 student hours will take place via internet. Interested students are asked to book a slot by e-mailing teacher: when doing so please check if there is any notice on the subject.

follow the feed