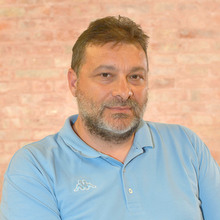 Office hours
Office hours, whether in person or online, are held by appointment, which must be requested by e-mail.

Thesis Supervision
I am available to supervise theses, of bachelor or master level, concerning methodological or applied statistics topics. As a default, the topic of the thesis must be proposed by the student and agreed in advance.
Notices
ELEMENTI DI STATISTICA - [EM1112] VENEZIA (206614): IMPORTANTE: modifica calendario del corso
Published on 15/09/2022
Il corso Elementi di Statistica si terrà per l'anno accademico 2022/23 nel secondo periodo didattico, quindi con inizio delle lezioni nella settimana che inizia il 7 novembre 2022. Il calendario delle lezioni verrà definito dall'ufficio competente.
Pertanto, venerdì 16 settembre (e negli altri venerdì del primo periodo) non ci sarà lezione.
follow the feed