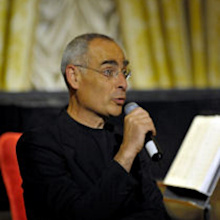 Giovanni DE ZORZI
Position

Associate Professor
Telephone

041 234 6238
E-mail
Fax

041 234 6210
Scientific sector (SSD)

ETNOMUSICOLOGIA [L-ART/08]
Website

www.unive.it/persone/dezorzi (personal record)

Office
Leggi l'intervista - "Primi piani"
Musician and Ethnomusicology PhD, his main research areas are the Ottoman-Turkish, Iranian and Central Asian traditions of classical and Sufi music. He alternates a performing musical life (ney flute player) with field research, scientific writing, musical and academic teaching.
He graduated in 1999 in Ethnomusicology at the University "Ca'Foscari" of Venice with the thesis: "Ascolta il ney com'esso narra la sua storia. Uno strumento e le sue implicazioni. ('Listen to the Ney how it Tells its Story'. An Instrument and its Implications'). Professor Maurizio Agamennone (Ethnomusicology); Professor Giampiero Bellingeri (Turkish Language and Literature).
In 2001 he received a DÉA (Diplôme d'Études Approfondies) with EHÉSS (École des Hautes Études en Sciences Sociales) of Paris with the thesis: Le ney dans la Turquie contemporaine. Situation actuelle d'un instrument « passéiste ». ('The ney in contemporary Turkey. Actual Situation of a 'Traditionalist' Instrument'). Professor Gerard Delille (Anthropology); Professor Jean During (Ethnomusicology).
In 2006 he received a PhD in "History and Analisis of the Musical Cultures" at the Department of Glottoantropological and Musical Studies of the University "La Sapienza" of Rome, with the thesis: Gli zikr della confraternita sufi yasawiyya nella valle del Fergana (Uzbekistân, Kazakhstân, Kirgyzstân). ('The zikr of the Yasawiyya Sufi Brotherhood in the Fergana Valley -Uzbekistân, Kazakhstân, Kirgyzstân-'). Professor Francesco Giannattasio (Ethnomusicology). Professor Giovanni Giuriati (Ethnomusicology).
Teaching
From 2001 to 2007 he taught Etnomusicology at the Ethnomusicology Department of the State Conservatory "Cesare Pollini" of Padua. In the Fall of 2007 the experimental Department closed.
From 2007 to 2011 he taught ney flute at the State Music Conservatory "Arrigo Pedrollo" of Vicenza.
From 2006-2011 he taught in some seminars at the Eurasian Studies Department of the "Ca' Foscari" University of Venice.
In 2010/2011 he taught in a regular course entitled "Ottoman Culture and Society", entirely devoted to Ottoman Music, at the Eurasian Studies Department of the "Ca' Foscari" University of Venice, Italy.
Academic Progress
After winning a national competition, since December 2011 he is Researcher (RU) of Ethnomusicology (L-Art 08) at the University "Ca' Foscari" of Venice.
In February 2015 he was awarded the national scientific qualification (ASN) to Associate Professor. In December 2018 he was appointed Associate Professor (PA).
In October 2022 he obtained the national scientific qualification (ASN) to Full Professor (PO).
Other activities
He participated to many conferences, symposiums and seminars, national and international. He ideated and realized himself many conferences, namely with the 'Giorgio Cini' Foundation, the University 'Ca' Foscari', the Theatre 'La Fenice' of Venice and with the Festival MiTO Settembre Musica.
Among these many activities, worthy of note the yearly ney flute seminars directed by m.o Kudsi Erguner and codirected by himself that took place at the 'Giorgio Cini' Foundation from 2005 to 20012.
From 2012 began the Bîrûn Project, under the artistic direction of Kudsî Erguner in collaboration with Giovanni De Zorzi and Giovanni Giuriati, involving the Fondazione Cini's Intercultural Institute for Comparative Music Studies (IISMC) and the Department of Philosophy and Cultural Heritage (DFBC) of the Venice University Ca' Foscari. Bîrûn takes place in several phases: a call for scholarships for young musicians, a study day at Ca' Foscari University in Venice, a week-long workshop to study and rehearse a chosen repertoire, a professional recording of the repertoire for publication (which led to the publication of six CD-books by Nota Edizioni https://www.nota.it/categoria-prodotto/intersezioni-musicali/), and a public performance. Many of these performance are on the YouTube channel of the Cini Foundation. The latest is 'Sacred Songs from Istanbul': https://youtu.be/lFw3fJf-JcI
As a ney flute player, De Zorzi has a notable performing life as a soloist or with his Ensemble Marâghî.
He is actively involved in cultural radio broadcasting, especially with RAI RadioTre.
Last update: 19/12/2022
The information above have been uploaded on Ca' Foscari website direclty by the user this webpage refers to. The correctness and truthfulness of the published information are responsibilities of the relevant user.