MENEGAZZO Federica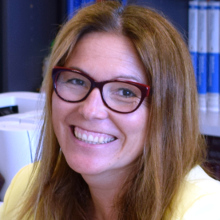 La mia attività di ricerca si è sviluppata negli ambiti della Chimica Industriale, della Scienza dei Materiali e delle Nanotecnologie. In modo particolare la mia attività scientifica è stata focalizzata su tematiche di catalisi eterogenea, sullo studio di materiali inorganici nanostrutturati e sullo sviluppo di nuovi processi per una Chimica Sostenibile. Tale ricerca è stata svolta mediante un'attività continuativa presso il Dip. di Chimica e più recentemente presso il Dip. di Scienze Molecolari e Nanosistemi dell'Università Ca' Foscari Venezia, corsi di formazione e partecipazione a congressi nazionali ed internazionali, nonché collaborazioni con gruppi di ricerca di altre università italiane ed estere.
Ho conseguito la Laurea in Chimica Industriale nel 1998 presso l'Università Ca' Foscari Venezia con il punteggio di 110/110 discutendo una tesi sulla "Sintesi, caratterizzazione e studio della reattività di complessi diazenici, diazenidici ed idrazinici di iridio". Ho ottenuto il titolo di Dottore di Ricerca in Scienze Chimiche presso l'Università di Ferrara il 10/2/2003 con una tesi inerente i "Catalizzatori eterogenei a base di Pd per idrogenazioni selettive".
Ho l'abilitazione alla libera professione di chimico, conseguita nella seconda sessione dell'anno 1998 presso l'Università Ca' Foscari Venezia e dal 2012 sono cultore della materia per l'insegnamento di "Chimica Industriale 2".
Nel 2016 ho ottenuto l'abilitazione a Professore (II fascia) di Chimica Industriale (03/C2).
Nel 2014 ho ottenuto entrambe le abilitazioni a Professore (II fascia) per i settori di Chimica Inorganica: "Fondamenti delle Scienze Chimiche e Sistemi Inorganici" (03/B1) e "Fondamenti Chimici delle Tecnologie" (03/B2).
Sono coautrice di oltre 50 pubblicazioni scientifiche con più di 1100 citazioni, il cui h index è 24 (Isi Web of Knowledge e Scopus). Sono coautrice di oltre 90 presentazioni a congressi nazionali ed internazionali.
Ho inoltre svolto attività didattica all'interno di settori disciplinari diversi (CHIM04/CHIM03/CHIM01). In particolare sono stata Professore a contratto per il corso di "Esercitazioni di Chimica Generale" (CHIM-03) e sono stata correlatrice di varie tesi di laurea.
Sono membro della SCI (Società Chimica Italiana) e del consorzio INSTM (Consorzio Interuniversitario Nazionale per la Scienza e Tecnologia dei Materiali) e ho collaborato all'organizzazione di congressi e scuole nazionali.
Sono "referee" per varie riviste internazionali di Chimica e Scienze dei Materiali.
La mia attività di ricerca è stata supportata economicamente sia da finanziamenti pubblici (PRIN, INSTM e Regione Lombardia) che da accordi con ditte private nazionali ed internazionali.
La mia attività di ricerca è stata interrotta per tre brevi periodi (2001-2003-2006) per la nascita dei miei figli.
ENGLISH VERSION
Since June, 1998 working at Dept. Chemistry, University of Venice as young scientist with research fellowship. From January, 2000 to December, 2002 as PhD student of the University of Ferrara. Actually working at Dept. of Molecular Sciences and Nanosystems, Ca' Foscari University Venice as post-doc researcher.
My scientific interests are in the field of Industrial Chemistry, Material Sciences and Nanotechnologies. In particular, my research activity focused on nanostructured inorganic materials and metallic heterogeneous catalysts for the development of processes for a Sustainable Chemistry.
My research activity is documented by more than 50 papers published on refereed international journals of Chemistry and Material Sciences gaining more than 1100 citations and a h-index=24 (Isi Web of Knowledge and Scopus). I've presented my work at several national and international congresses and I'm co-author of more than 90 peer-reviewed conferences proceedings.
I lectured in various disciplines (Industrial Chemistry, Inorganic Chemistry, Analytical Chemistry). In particular I was Professor for the course of "General and Inorganic Chemistry" and was co-tutor of many theses. I was qualified for the role of Associate Professor in Industrial Chemistry (2016) and for both the roles of Associate Professor in Inorganic Chemistry (2013).
I've managed relations with scientific national and international working groups, and I've been responsible in the last few years for the organization of the activities in the research lab, taking care of several students during their degree training. I'm a member of the National Interuniversity Consortium of Materials Science and Technology (INSTM) and of the Italian Chemical Society (SCI). I've been invited to act as a reviewer for many International Journal of Chemistry and Material Sciences.
My research activity has been funded by national grants and by projects with national and international companies. In 1998 I've been researcher in a BRITE/EURAM PROGRAM. In 2008 I took part in a research program (CH/2766 BM26A) at the European Synchrotron Radiation Facility (ESRF).
My research was briefly interrupted for three periods (2001-2003-2006) for the birth of my children.
Le informazioni riportate sono state caricate sul sito dell'Università Ca' Foscari Venezia direttamente dall'utente a cui si riferisce la pagina. La correttezza e veridicità delle informazioni pubblicate sono di esclusiva responsabilità del singolo utente.