LANARO Paola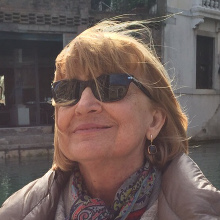 Prof. Paola Lanaro
(born on 17th February 1951)
Office
Department of Management
Ca' Foscari University of Venice
San Giobbe, Cannaregio 873
30121 Venice - Italy
lanaro@unive.it
http://www.unive.it/persone/lanaro
http://www.youtube.com/watch?v=jje1nLVd8g0
Current position
- 2001-today: Full Professor in Economic History at Ca' Foscari University.
Past position
- 1974 Researcher in Economic History at the University of Verona (Institute of Economic History)
- 1989: Associate Professor in Economic History at Ca' Foscari University of Venice
- 1999, 2008, 2017: Visting Professor at the "École des Hautes Études en Sciences Sociales", Paris, France –
- 2011 visiting professor NYU and Columbia University, NY, USA
Teaching
- Economic History
- Business History
- The Birth of Enterprise
Since 1992 until 2009 she has been member of the Board of the PhD in Social and Economic History of the Bocconi Commercial University of Milan. Since 2010 she is member in the international PHD in Storia delle Arti -Venezia ( Cà Foscari).
She keeps PhD courses at Paris VII and has been visiting professor at the Ecole de Hautes Etudes en Sciences Sociales in 1999, 2008 and 2017. She also is regularly invited at the EHESS where she keeps regular seminars in the courses of prof. Fauve Chamoux, Maurice Aymard and Maurizio Gribaudi.
Since 2012 until 2014 she has had the responsability of several seminary in Bocconi (Miland) with prof. Franco Amatori, dedicated to the Economic History and Business History.
She has been president of AISU (Italian Association of Urban History). Now is member of the board.
She is member of several historical associations (EBHA, RSA, SISE, SISLAV) and she has participated regularly to the meetings of the EAUH, RSA, EBHA, AISU, ASSI, organizing panels and sessions. She is in the Editorial board in the reviews «Studi storici Luigi Simeoni», «Città e Storia», and in the series "Studi di storia economica e storia dell'impresa", Marsilio Editori, Venice.
She is also member of the scientific committee of the "International Library La Vigna – Vicenza".
She is supervisor for the private archives in the Economics University Library of Ca' Foscari (BEC). She is also member of the Central Committee of the same library.
Is member of the "Ateneo Veneto" and of the "Ateneo di Brescia".
Her fields of research are the economic and social history of Europe in late middle age and early modern times, with particular reference to Italy and the Venetian State. Recently has been engaged in researches on the economic role of dowries and entails in the preindustrial society.
Now she has created a franco-italian equipe concerning the venetian Arsenale and more in general Mediterranean Arsenali in the pre-modern age.
At the same time she has been invited by prof. Andrew Popp to participate to a project concerning business and cultural history in early modern age.
She published essays in Italian and international journals, such as "Società e Storia", " Quaderni Storici", "Studi Veneziani", "Annali di Storia dell'Impresa", "Renaissance Studies", "Journal of Urban History", "Histoire Urbaine", " Revue d'Histoire moderne & contemporaine", "ADH".
Ultima modifica: 15/04/2020
Le informazioni riportate sono state caricate sul sito dell'Università Ca' Foscari Venezia direttamente dall'utente a cui si riferisce la pagina. La correttezza e veridicità delle informazioni pubblicate sono di esclusiva responsabilità del singolo utente.