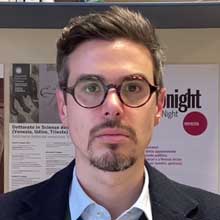 Ivan MATIJASIC
Position

Researcher
E-mail
Scientific sector (SSD)

STORIA GRECA [L-ANT/02]
Website

www.unive.it/persone/ivan.matijasic (personal record)

Office
Ivan Matijašić (Pula, Croatia, 1987): Assistant Professor in Greek History at Ca' Foscari and Fellow at the Center for Hellenic Studies, Harvard University (2022-2023). I obtained a BA degree (2008) and an MA degree (2011) in Classics and Ancient History at Ca' Foscari University of Venice. In 2015 I was awarded a PhD at the Scuola Normale Superiore in Pisa. As an MA and later a PhD student, I spent several months in various German universities (Freiburg im Breisgau, Münster, FU Berlin) with DAAD and Erasmus programme scholarships. In 2015-2016 I was Postdoctoral Fellow (assegnista di ricerca) in Greek and Roman history in Venice, and later obtained a Postdoctoral scholarship in Münster funded by the Gerda Henkel Foundation (2016-2017), a Visiting Fellowship at the FU Berlin (2017), and a Postdoctoral Fellowship at Newcastle University funded by the Research Excellence Academy (2017-2020). I was Adjunct Professor in Venice in Spring 2021, Research Fellow in Greek History at the University of Siena (2021-2022), and Marie Skłodowska-Curie COFUND Fellowship at Ca' Foscari University of Venice (Global@Venice, 2022).
Last update: 11/01/2023
The information above have been uploaded on Ca' Foscari website direclty by the user this webpage refers to. The correctness and truthfulness of the published information are responsibilities of the relevant user.