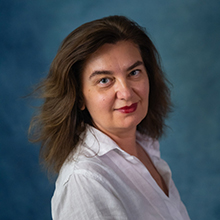 SBARRA Stefania
Position

Associate Professor
Roles

Member of the University Quality Presidium (PQA)
Representative of the University for Equal Opportunities, Employees' Well-being and Inclusion Committee

Telephone

041 234 7828
E-mail

stefania.sbarra@unive.it
annali.occidentali@unive.it - Annali di Ca' Foscari

Fax

041 234 7850
Scientific sector (SSD)

LETTERATURA TEDESCA [L-LIN/13]
Website

www.unive.it/persone/stefania.sbarra (personal record)

Office
Leggi l'intervista - "Primi piani"
Stefania Sbarra (Thiene 1969) is Associate Professor of German Literature at the University of Venice Cà Foscari.
She graduated from the University of Venice in 1995 and earned in 2001 her Ph.D. from the Universitiy of Pisa. Between 2000 and 2008 she was assistant professor of at the University of Ferrara and in 2009 moved to the University of Venice Cà Foscari.
In January 2014 she obtained the national scientific lecture qualification for the role of Associate Professor in German Literature.
She is member of the AIG (Associazione Italiana Germanisti) and of the Associazione Sigismondo Malatesta. In 2012 she was a Jury member of the Jury for the Baioni Prize.
Research, teaching and publications focus on the age of Goethe, Heinrich von Kleist, Nietzsche and the early 20th century, the prose of German Realism and contemporary literature. She has given lectures and/or seminars at various universities and research institutions (Pisa, Padua, rome, Paris IV, London, Bayreuth, Berlin, Göttingen, Metz, Münster, Literaturarchiv Marbach).
She published a book on the influence of Rousseau in German literature of the classic and romantic period (La statua di Glauco. Letture di Rousseau nell'età di Goethe, Carocci 2006), and a book on German Realism («Il confine, il confine. Dov'è?». Theodor Fontane, Friedrich Nietzsche e il realismo tedesco; Le Lettere 2019), commented the edition of Kleist's Complete Works published by Mondadori (2011), and published in some major German journals (Goethe-Jahrbuch, Heinrich Mann-Jahrbuch, Weimarer Beiträge, Cultura tedesca, Cultura Tedesca, Ermeneutica Letteraria, Etudes Germaniques).
Since 2016 she has been co-editor of the journal "Annali di Ca' foscari. Serie occidentale".
In July 2020 she obtained the national scientific lecture qualification for the role of Ordinary Professor in German Literature.
In October 2022, she received an honourable mention in the LabTrad 2022 prize (Italian-German Translation Workshop) announced by the Department of Foreign Languages, Literatures and Cultures of the University of Roma Tre and the Goethe-Institut Rom, in collaboration with the DAAD-Lektorenprogramm, for the editing of the voume: Emine Sevgi Özdamar, Il cortile nello specchio. Biciletta sul ghiaccio, Venice, Cafoscarina 2018.
Last update: 04/11/2022
The information above have been uploaded on Ca' Foscari website direclty by the user this webpage refers to. The correctness and truthfulness of the published information are responsibilities of the relevant user.