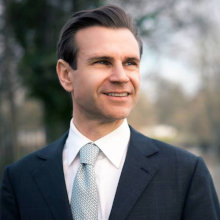 Matteo LEGRENZI
Position

Full Professor
E-mail
Scientific sector (SSD)

SCIENZA POLITICA [SPS/04]
Website

www.unive.it/persone/matteo.legrenzi (personal record)

Office
Leggi l'intervista - "Primi piani"
Matteo Legrenzi holds a D.Phil. in International Relations and a M.Phil. in Modern Middle Eastern Studies from St. Antony's College, Oxford. He served as President of the Italian Association for Middle Eastern Studies (SeSaMO) and he is a member of International Advisory Council of the World Congress for Middle East Studies (WOCMES) and of the European Association for Middle Eastern Studies (EURAMES) Council as well as the Middle East Studies Association of North America's (MESA) Committee for Undergraduate Middle East Studies. He helped to establish and served as inaugural coordinator of the undergraduate program in Philosophy, International Studies and Economics (PISE) and its Double Degree with the University of Groningen. He was founding director of the Master in Strategic Studies and International security (SSSI) and coordinator of the Research Institute for International Studies. He is member of the Istituto Affari Internazionali (IAI) and in Oxford he is Research Associate at the Department of Politics and International Relations. He served as Rector's Delegate for the Middle East and he sits on the editorial board of the Elements in Middle East Politics series of Cambridge University Press. He studied Arabic at the American University in Cairo. He published numerous articles and book chapters on the Arab monarchies and the international relations of the Gulf as well as writing a column on Middle East politics for the Italian journal "Il Mulino". He wrote two monographs "The GCC and the International Relations of the Gulf: Diplomacy, Security and Economic Coordination in a Changing Middle East" for I.B. Tauris, "Cognitive Analysis of Decisionmaking: The Case of Israel in October 1973 Conflict" for Vita e Pensiero (Milan Catholic University Press) and, alongside Dr Cinzia Banco, "The Arab Monarchies of the Gulf: New Center of Gravity in the Middle East" for Il Mulino.. He also edited three volumes "Beyond Regionalism? Regional Cooperation, Regionalism and Regionalisation in the Middle East" and "Shifting Geo-Economic Power of the Gulf: Oil, Finance and Institutions" for Ashgate Publishers and "Gulf Security: Legacies of the Past, Prospects for the future" for Routledge. Before returning to Venice, his hometown, he taught in Oxford, Ottawa and Seoul winning the Capital Educators' Award in 2009 in Canada. He is honorary research fellow at the University of Exeter and currently supervises numerous Marie Curie Global Individual Fellowships, two Marie Curie COFUND, four Marie Curie Europe Individual Fellowships and five young researchers under the NextGenerationEU program. He deals with international relations and comparative government of the Middle East, in particular the political economy, regionalism and security of the Arab monarchies of the Gulf.
Last update: 24/04/2023
The information above have been uploaded on Ca' Foscari website direclty by the user this webpage refers to. The correctness and truthfulness of the published information are responsibilities of the relevant user.