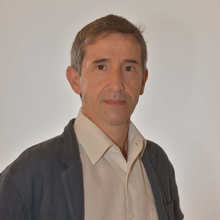 Simone CRISTOFORETTI
Position

Associate Professor
Telephone

041 234 8817
E-mail
Fax

041 524 1847
Scientific sector (SSD)

STORIA DEI PAESI ISLAMICI [L-OR/10]
Website

www.unive.it/persone/cristoforetti (personal record)

Office
Activities and research skills
General information
Scientific sector (SSD)

STORIA DEI PAESI ISLAMICI [L-OR/10]
Settore Scientifico Disciplinare (SSD) affine

LINGUA E LETTERATURA PERSIANA [L-OR/15]
Geographic areas in which the research experience mainly applies

Internazionale: Medio Oriente
Known languages

neopersiano (farsi / dari) (scritto: intermedio parlato: intermedio)
inglese (scritto: intermedio parlato: base)
tedesco (scritto: base parlato: base)
turco (scritto: base parlato: base)

Participation in editorial boards of scientific journals/book series

Membro dell'Advisory Board della collana Brill con ISSN: 2773-1030 dal titolo: Islamicate and Ibero-American World Connections.
Editorial Board:
Élodie Brun, Centro de Estudios Internacionales, El Colegio de México
Fernando Camacho Padilla, Universidad Autónoma de Madrid, Spain
Raffaele Mauriello, Allameh Tabataba'i University, Tehran, Iran
https://brill.com/page/iiwc

Membro del Comitato di redazione della collana del Marco Polo Research Centre for Global Europe-Asia Connections (afferente al DSAAM dell'Università di Venezia Ca' Foscari) con ISSN: 2785-5899 dal titolo Marco Polo. Studies in Global Europe-Asia Connections
Series Editors:
Elisabetta Ragagnin, Università Ca' Foscari di Venezia, Italia.
Sabrina Rastelli, Università Ca' Foscari di Venezia, Italia.
https://edizionicafoscari.unive.it/it/edizioni4/collane/marco-polo-research-centre/

Membro dell'Editorial board of EURASIATICA. Quaderni di Studi su Balcani, Caucaso e Asia Centrale, Ca' Foscari University.

Editorial consultant of AYINE. Revista internacional de cultura e sociedades islamicas. (Indipendent journal in Portuguese language, published by Ayinè. www.ayinerevista.com).
Participation as referees of national and international research projects

Co-tutor of the PhD research project by Sara Pourahmadi at Ferdowsi University (Faculty of Literature and Humanities: History Group) of Mashhad (Iran), titled "Zoroastrian Calendar from Ancient Times to the 6th/12th Century AH/AD" (گاه‌شماری زرتشتی از کهن‌ترین زمان تا سده‌ی ششم هجری ), supervised by Prof. Pedram Jam (inner member). Keywords: Calendar, Astronomy, Zoroastrian Astrology, Zoroastrian Eschatology, Zoroastrianism. Start date of the research project: a.a. 2022-23.
Areas and research fields

Area: Ambiente Linea: Ecologia animale/vegetale
Area: Ambiente Linea: Scienze della terra
Area: Ambiente
Area: Archeologia ed arti Linea: Archeologia e storia delle arti antiche
Area: Archeologia ed arti Linea: Archeologia islamica
Area: Beni culturali Linea: Valorizzazione di beni culturali
Area: Filologia e Lingua Linea: Filologia medievale e umanistica
Area: Lingue e letterature del sub continente indiano Linea: persiana in India
Area: Lingue e letterature dell'Africa settentrionale e del Vicino oriente Linea: araba
Area: Lingue e letterature dell'Africa settentrionale e del Vicino oriente Linea: persiana
Area: Lingue e letterature europee
Area: Storia e Antropologia Linea: Storia dei sistemi sociali
Area: Storia e Antropologia Linea: Storia medievale
Area: Storia e Antropologia
Area: Studi storici e relazioni internazionali Linea: Paesi islamici e Asia Centrale

Research skills
Valutazione e interpretazione di materiali manoscritti in arabo e neopersiano.

Description:

Evaluation and interpretation of Arabic and New-Persian manuscripts.

Keywords:

Medieval history, History of religions, Oriental philology

ATECO code:

[58] - attività editoriali
Valutazione e analisi di documenti di archivio.

Description:

Evaluation and analysis of archival documents.

Keywords:

Contemporary history, Economic history, Social anthropology

ATECO code:

[72.20] - ricerca e sviluppo sperimentale nel campo delle scienze sociali e umanistiche
Completed and pending researches
Ambiente e comunità arabofone italiane: strumenti per la promozione dello sviluppo sostenibile

Other members of the research group:
Archeologia islamica: insediamento e paesaggio

SSD:

L-OR/11
Aspetti istituzionali dei sistemi cronologici: il tempo e il potere.

SSD:

L-OR/10
Curatela (traduzione e integrazione con aggiornamenti) di un'edizione inglese del Sifatnama di Muhammad Khan Ghazi sulla base dell'ed. e traduzione italiana a c. di G. Scarcia

SSD:

L-OR/15
Edizione del Nawruznama attribuito a 'Umar Khayyam sulla base dei due mss. di Berlino e di Londra.

SSD:

L-OR/15
Edizione, traduzione e commento dei tre testimoni (di Mantova e Torino) del manoscritto latino (1490-1492) di Pomponio Leto dal titolo De mensium nominibus

SSD:

L-FIL-LET/08
Esegesi dell'opera poetica persiana sui giorni e i mesi di Mas'ud-e Sa'd Salman.

SSD:

L-OR/10
Gli ismailiti del Qohestan: storiografia, paesaggio, rapporto uomo-ambiente.

SSD:

L-OR/10
Indagine nelle fonti arabo-persiane circa la presenza di riferimenti relativi all'iconografia dell'iranico xwarrah.

SSD:

L-OR/10
Interazioni tra uomo e ambiente. L'ismailismo iranico e il problema identitario.

SSD:

L-OR/10

Other members of the research group:
La dimensione calendariale nell'opera di Mas'ud-e Sa'd Salman: poesie dedicate ai giorni del calendario iranico (

SSD:

L-OR/15
Nowruziyye: storia di un genere letterario.

SSD:

L-OR/15
Nuova edizione dello Shahnameh di Ferdowsi in sette volumi basata sull'ed. del testo persiano di Turner Macan e sulla sua traduzione italiana operata da Italo Pizzi.

SSD:

L-OR/15
Regesto completo delle fonti in lingua araba sul capodanno iranico (Nawrūz) in età abbaside (750-1258).

SSD:

L-OR/10
Reti di Scienza e Acqua

SSD:

L-OR/10

Other members of the research group:
Reti di scienza e acqua: le diffusione delle tecniche irrigue tradizionali nel mondo islamico

SSD:

L-OR/10
Reti di scienza e acqua: le diffusione delle tecniche irrigue tradizionali nel mondo islamico (Networks of Science and Waters: the diffusion of traditional irrigation techniques in the Islamic world)

SSD:

L-OR/12
Traduzione e commento del testo attribuito a Umar al-Khayyam(i) dal titolo Nawruznama sulla base dei due manoscritti esistenti (ms. di Berlino e del ms. di Londra).

SSD:

L-OR/15
Traduzuone e curatela dell'opera di S. H. Taqizadeh dal titolo Mani e la sua religione.

SSD:

L-OR/17
Funds
Regesto completo delle fonti in lingua araba sul capodanno iranico (Nawrūz) in età abbaside (750-1258). A complete index of Abbasid literary sources in Arabic language regarding the Iranian New-year festival of Nawrūz.

Funding body:

Università di Venezia Ca' Foscari

Type:

Progetti di Ateneo

Role in the project:

LD

Sito di progetto:

Dipartimento di Studi sull'Asia e sull'Africa Mediterranea

Starting date:

Year: 2012 Length in months: 24
Reti di scienza e acqua: le diffusione delle tecniche irrigue tradizionali nel mondo islamico (Networks of Science and Waters: the diffusion of traditional irrigation techniques in the Islamic world)

Funding body:

Università di Venezia Ca' Foscari

Type:

Altri finanziamenti per progetti di ricerca

Role in the project:

LD

Starting date:

Year: 2019 Length in months: 12
Ricostruire la frontiera: la cittadella di Urfa (2014-2016)

Funding body:

MAAEE

Type:

MAECI - Campagne di scavo

Role in the project:

NS

Starting date:

Year: 2014 Length in months: 36

Other members of the research group:
Terre di Mosul: insediamento, paesaggi e cultura materiale dell'Iraq settentrionale nel periodo islamico (2017-2021)

Funding body:

MIUR

Type:

PRIN

Role in the project:

PT

Starting date:

Year: 2017 Length in months: 36

Other members of the research group:
Terre di Mosul: insediamento, paesaggi e cultura materiale dell'Iraq settentrionale nel periodo islamico (2017-2021)

Funding body:

MIUR

Type:

PRIN

Role in the project:

PT

Starting date:

Year: 2017 Length in months: 36

Other members of the research group: