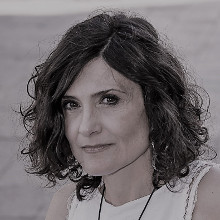 DREON Roberta
Position

Associate Professor
Roles

Delegated to Humanities Research

Telephone

041 234 7243
E-mail
Fax

041 234 7350
Scientific sector (SSD)

ESTETICA [M-FIL/04]
Website

www.unive.it/persone/robdre (personal record)

Office
Roberta Dreon is an Associate Professor of Aesthetics at the Department of Philosophy and Cultural Heritage of Venice University, Ca' Foscari since December 2014. In July 2017 she obtained the National Scientific Qualification as Full Professor in the scientific area 11/C4, Aesthetics and Philosophy of Languages. At present, she teaches Aesthetics, within the degree courses of Philosophy, Conservation of Cultural Heritage, and Economy and Management of Cultural Production. She is a member of the editorial and scientific boards of the journals "Mind, Language and the Arts", "Ermeneutica letteraria", and she is co-editor in chief of the "European Journal of Pragmatism and American Philosophy" since June 2019. Since 2007 she is a member of the "Società Italiana di Estetica" and of "Pragma Association". Since 2011 she is a member of the International Ph.D. board of Philosophy and Pedagogy at Ca' Foscari University, Venice.
In the past, she devoted her interests to phenomenology and hermeneutics and wrote a book on experience and time in Heidegger's thought (Franco Angeli 2003). In 2007 she published a volume centered on the connections between sensibility and language (Mimesis). In the later years, her research has been focused on Dewey's aesthetics: in January 2012 she published a monograph entitled "Out of the Ivory Tower. The Inclusive Aesthetics of John Dewey, Today", (Marietti), which has been translated into French by Questions Teoriques in 2017. She has published many papers – among the most recent articles, she published on pragmatist aesthetics, pragmatism and enactivism, sensibility and the theory of emotions, as well as papers on Dewey, Mead e James.
Her present scientific interests are focused on classical pragmatism and contemporary debates in aesthetics – particularly, on pragmatist aesthetics, evolutionary aesthetics, environmental aesthetics, with specific attention for the varieties of naturalism within aesthetics. The issues of sensibility, both in its perceptual and affective forms, their connections with language and more generally the relations between nature and culture continue to be at the center of her attention. A new book, "Human Landscapes", is about to be published by SUNY Press (April 2022). It develops a pragmatist anthropology focused on the topics of sensibility, habits and enlanguaged experience.
Last update: 16/08/2021
The information above have been uploaded on Ca' Foscari website direclty by the user this webpage refers to. The correctness and truthfulness of the published information are responsibilities of the relevant user.