CARRARO Carlo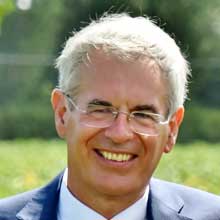 Carlo Carraro è il Presidente della European Association of Environmental and Resource Economists (EAERE). E' stato Rettore dell'Università Ca' Foscari di Venezia dal 2009 al 2014 e Direttore del Dipartimento di Economia dal 20015 al 2008. Presso la stessa Università è ora professore ordinario di Economia Ambientale. Ha conseguito il dottorato di ricerca all'Università di Princeton, negli Stati Uniti.
Dal 2015 riveste anche, per il secondo mandato consecutivo, la carica di vicepresidente del Working Group III dell'IPCC (Intergovernmental Panel on Climate Change), organizzazione internazionale per cui lavora dal 1995 e che nel 2007 è stata insignita del premio Nobel.
Per oltre vent'anni è stato Direttore Scientifico della Fondazione Eni Enrico Mattei (FEEM) e, dal 2009, Direttore dell'International Centre for Climate Governance (ICCG). E' ora membro del Comitato Strategico della Fondazione Centro Euro Mediterraneo sui Cambiamenti Climatici (CMCC) e Fellow dell'Association of Environmental and Resource Economists (AERE).
E' anche Co-Presidente dell'Advisory Committee della Green Growth Knowledge Platform e membro del World Economic Forum (WEF) Expert Network. E' Presidente di H-Farm Education e della HforHuman Foundation.
E' Direttore Scientifico della Fondazione Nord Est e Research Fellow del CEPR (Center for Economic Policy Research - Londra) e del CESifo (Center of Economic Studies - Monaco), e Associate Research Fellow del CEPS (Center of Economic Policy Studies – Bruxelles).
Ha scritto circa 40 libri e oltre 300 articoli e sui temi dell'economia ambientale, dei cambiamenti climatici, degli accordi internazionali ambientali, del coordinamento delle politiche fiscali e monetarie, della teoria delle coalizioni, della modellizzazione economica ed econometrica.
Il suo blog è www.carlocarraro.org.
Le informazioni riportate sono state caricate sul sito dell'Università Ca' Foscari Venezia direttamente dall'utente a cui si riferisce la pagina. La correttezza e veridicità delle informazioni pubblicate sono di esclusiva responsabilità del singolo utente.