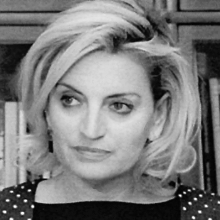 BURINI Silvia
Position

Associate Professor
Telephone

C.S.A.R.: 041 234 6223 / 041 234 6227
E-mail

siburini@unive.it
csar@unive.it - Centro Studi sulle Arti della Russia

Fax

041 234 6210
Scientific sector (SSD)

STORIA DELL'ARTE CONTEMPORANEA [L-ART/03]
Website

www.unive.it/persone/siburini (personal record)

Office
Office
Leggi l'intervista - "Primi piani"
Associate Professor, Director of the Centre of Studies of Russian Art (CSAR) at Ca' Foscari University in Venice, Curator, International Researcher of Russian and Contemporary Art, Public Figure
Silvia Burini is Director of the Centre of Studies of Russian Art (CSAR) at Ca' Foscari University of Venice, where she is also a professor of History of Russian Art, Contemporary Art and Curatorship. From 2017 to 2020 she was in charge of for the Third Mission, Communication, and Events of the Department of Philosophy and Cultural Heritage.
Since 2018 she has been Vice Coordinator of the International Ph.D. program in History of Arts and tutor for International Doctoral Theses in Art History (in Russia and in Spain) and for post-doc projects (in France). Since 2019 Silvia Burini leads the "Contemporaneo" section for the Department of Philosophy and Cultural Heritage's magazine "Venezia Arti".
In 2019 she conceived the idea of, and still directs the Summer school "Contemporary art and curatorship: from Documenta to the Biennale" under SIE, the School of International Education of Ca' Foscari University.
She has been Vice President for the Cultural productions and Relations with the Scientific and Cultural Institutions at Ca' Foscari University from 2011-2014 and, in those same years, she has been a member of the Board of "Fondazione Bevilacqua la Masa" in Venice.
She is on the scientific committee of "Cyberfest – International Cyber Art Festival" in Saint Petersburg and she has been a member of the Expert Committee for the "Innovation Prize – All Russian Contemporary Art Competition", organized by the National Centre of Contemporary Art in Moscow.
She is a member of SHERA, the Society of Historians of East Europeans, Eurasian and Russian Art and Architecture. Silvia Burini is a member of the Expert Committee for the Russky Rim award (Russian Rome). In 2010 she created the annual cultural event "Art Night Venezia", of which she s has been the Scientific Director ever since. In 2014 she was awarded the Pushkin medal for her contribution to the dissemination of Russian culture and art. Since 2014 she is an honorary member of the Russian Academy of Arts.
In 2002 she received the "Premio internazionale arte e letteratura Sergio Polillo" from Accademia Carrara (Bergamo), in 2011 she was awarded the special prize from "Konchalovsky Foundation" (Moscow) and in 2018 she was awarded the Russky Rim prize in Rome for the promotion of Russian Art in Italy.
Silvia Burini graduated from the University of Bergamo with a thesis in Russian Art History and earned her Ph.D. in Comparative Slavic Culture at the University of Milan with a thesis on the Russian-Armenian painter Georgy Yakulov. She won a postdoctoral specialization at the University of Genoa. She further specialized in semiotics and art history in Moscow, Tartu, and Saint Petersburg. She received grants from the University of Warsaw and the Harvard University.
Her research interests focus on Russian figurative arts and on International Contemporary Art.
She has also dedicated her activity to the comparative study of artistic systems (painting and literature). She deals with the study of semiotics of culture and of visual arts (with reference to concerning Yuri Lotman's texts, which she also translated). As a researcher of the Russian Avant-garde of the 10s and 20s, she has expanded her field of interests to the wider context of contemporary art.
In recent years, she has deepened the themes of Socialist Realism in figurative arts, the Muscovite underground of the 60s and 70s and she has also worked with leading figures of the contemporary art scene. Silvia Burini has curated over the years numerous projects by contemporary Russian artists, including Dmitry Prigov, AES + F, Valery Koshlyakov, Aleksandr Ponomarev and, Grisha Bruskin (to whom she dedicated a recent monograph) and Italian artists, including Cristina Finucci, Francesca Montinaro, Marco Nereo Rotelli, Sissi, Nico Vascellari and Fabrizio Plessi.
She has curated more than fifty exhibitions of Russian Art from various periods including some several major exhibitions devoted to Vasily Kandinsky, Aleksandr Rodchenko and the Russian Avant-garde. She was the curator of the National Pavilion of the Russian Federation at the Venice Art Biennale in 2017. She realised many events related to Russian cinema, including the "Ruskino" festival in Venice. She participated in important International Conferences, some of which she herself organized. Silvia Burini is also interested in museum education. In this regard, she conceived and leads Ca'rte Lab for Ca' Foscari and coordinates an international project related to this topic.
She runs the series "La prospettiva rovesciata / Obratnaja Perspektiva" for Edizioni Ca' Foscari and, together with Giuseppe Barbieri, she runs the series of Obraz Exhibition Catalogs for Antiga Publishing House. She is a member of the research group CART (Contemporary Art Research Team), which she has created, and still directs, at Ca' Foscari. As an academic expert in charge of the Russian area, she took a part in the creation of the New Encyclopaedia of Contemporary Art Treccani. At the time being, she has been requested to write a large volume on the History of Russian Art for the Einaudi Publishing House.
Last update: 30/06/2022
The information above have been uploaded on Ca' Foscari website direclty by the user this webpage refers to. The correctness and truthfulness of the published information are responsibilities of the relevant user.